Are you having trouble sleeping? Anxiety-fuelled insomnia? Depression? Plain, ole stress? Sounds like you need a hug, but, short of that, you might want to try weighted blankets.
If you're reminded of anxiety vests or ThunderShirts for dogs, you're not far off. These blankets are designed to provide comfort and have proved very beneficial in medical treatment, as well.
Benefits of a weighted blanket:
Anxiety Disorders – The way weighted blankets help is by applying pressure, similar to getting a massage. This type of therapy is called Deep Pressure Touch Stimulation (DPTS), and works by stimulating the production of serotonin and endorphins, at times also called "happiness hormones".
Sensory Processing Disorders – Similarly to the case above, weighted blankets help people, especially kids, who do not properly process sensory input, by improving body awareness, calming and improving attention and focus, and decreasing sensory seeking behaviors.
Sleeping Disorders – As the serotonin, whose production is encouraged by the pressure that the blanket applies, gradually converts to melatonin, aka "the sleep hormone", your body takes the cue and does the rest by itself.
Besides the color pattern, there are only two parameters to consider when buying a weighted blanket – the size and weight. As far as the size goes, it's no different from a regular blanket, so whatever works for you, go for it.
As for weight – this matters, as it's the difference between feeling that pleasant, weighted sensation and feeling close to suffocation.
Here's a simple recommendation by occupational therapists and medical community in the form of a formula: for kids, the ideal weight is 10% of body weight, plus a pound for blanket footage, while for adults it varies from 5% to 10% of ideal (not actual) body weight, plus a pound for blanket footage.
For both​ kids and adults, it's generally not recommended to go over 10% of body weight.
Okay, now that we know what to look for, let's go over the best weight blankets on the market for kids, toddlers and adults!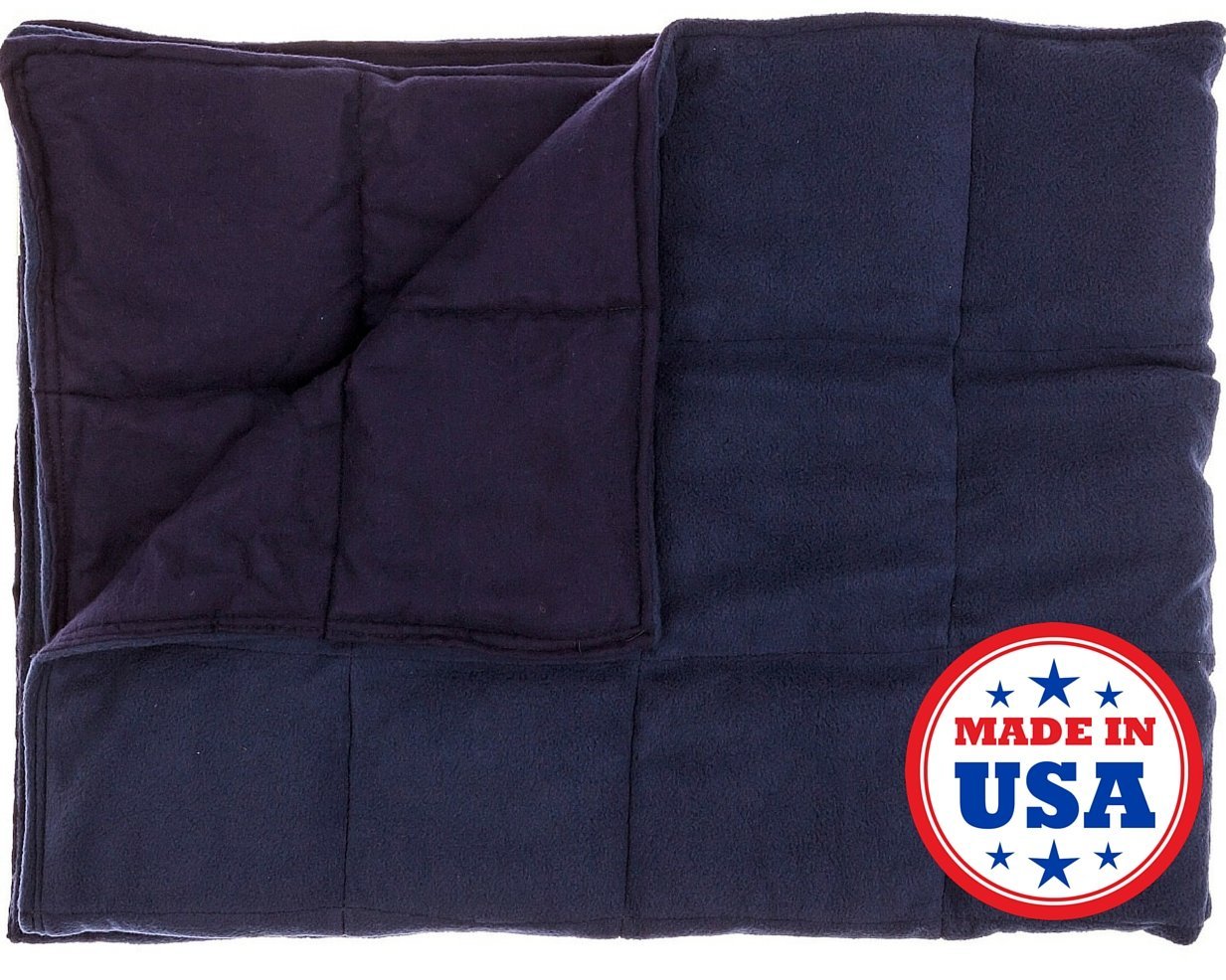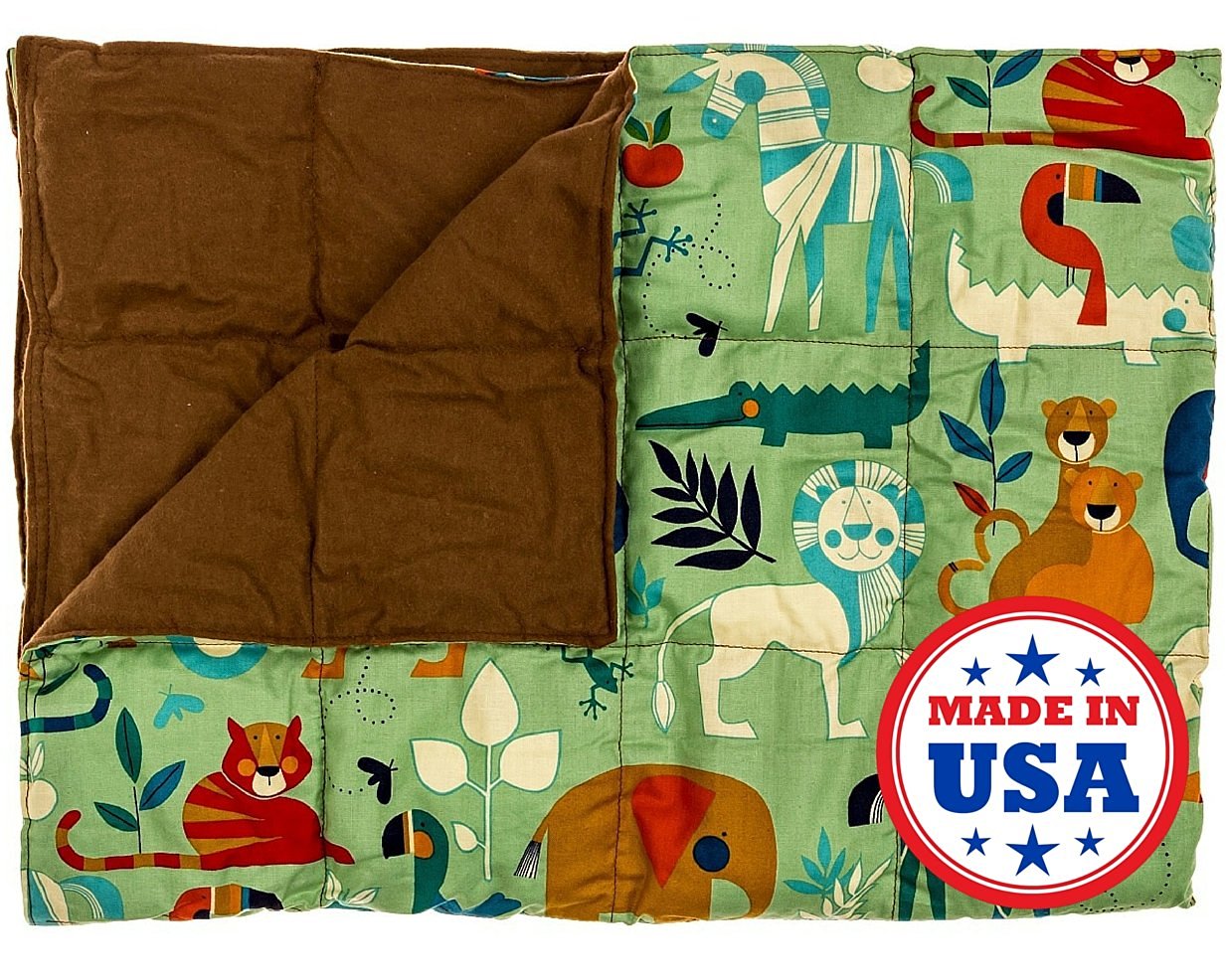 InYard offers a decent range of special needs products for kids, from weighted blankets to therapy swings.
As far as blankets go, there are two patterns available – the Navy Body Blanket and the Mini Safari, as well as three sizes – 30 x 40 inches (5 pounds), 41 x 56 inches (7 pounds), and 41 x 60 inches (15 pounds). The smaller weighted blankets are great for kids and teens while the large, 15 pound blanket is suitable for adults as well.
The blankets are filled with non-toxic, hypoallergenic plastic poly-pellets, not unlike those used in Beanie Babies.
They are hand-washable, and require to be air-dried for best maintenance; alternatively, you can take them to the dry-cleaners, though the manufacturer recommends hand-washing.
The manufacturer has a guaranteed money-back policy, so if your kid doesn't like the blanket for whatever reason, you can simply return it and get your money back (provided it's not damaged, of course).
So which blanket design is best for you? It depends on the material you'd prefer (as well as the color, of course). The Navy Body Blanket is made of Navy Micro Fleece 100% Polyester on the front, 100% Navy Flannel on the back and filled with hypoallergenic poly-pellets.
The plain navy color provides an added calming effect and matches well in pretty much every bedroom.
If your kid would prefer something more lively, there's the Mini Safari, or Zoo Blanket. This one is made of 100% Cotton on the front and 100% Cotton Flannel on the back; the poly-pellets sewn into the blanket are completely safe, non-toxic and hypoallergenic.
Lifetime Sensory Solutions specializes in manufacturing weighted blankets for kids with sensory issues. Each product is designed, tested and produced with special care, attention to detail and for longevity, and USA-made (Charlotte, NC).
Like most manufacturers, LSS was founded by a parent wishing to help their child and has since grown significantly, mostly thanks to their care for quality not only in their products but also their customers' lives.
As of August 2016, their weight blanket range includes: 5-foot Twin weighted blankets, 6-foot Twin weighted blankets, King weighted blankets, Queen weighted blankets, and a range of really cute mini sized toddler weighted blankets.
Speaking of toddler sized weighted blankets, this brand is probably the best one in this arena, featuring fun designs like Mickey and Friends as well as Minions, Teenage Mutant Ninja Turtles and 101 Dalmatians, like these below: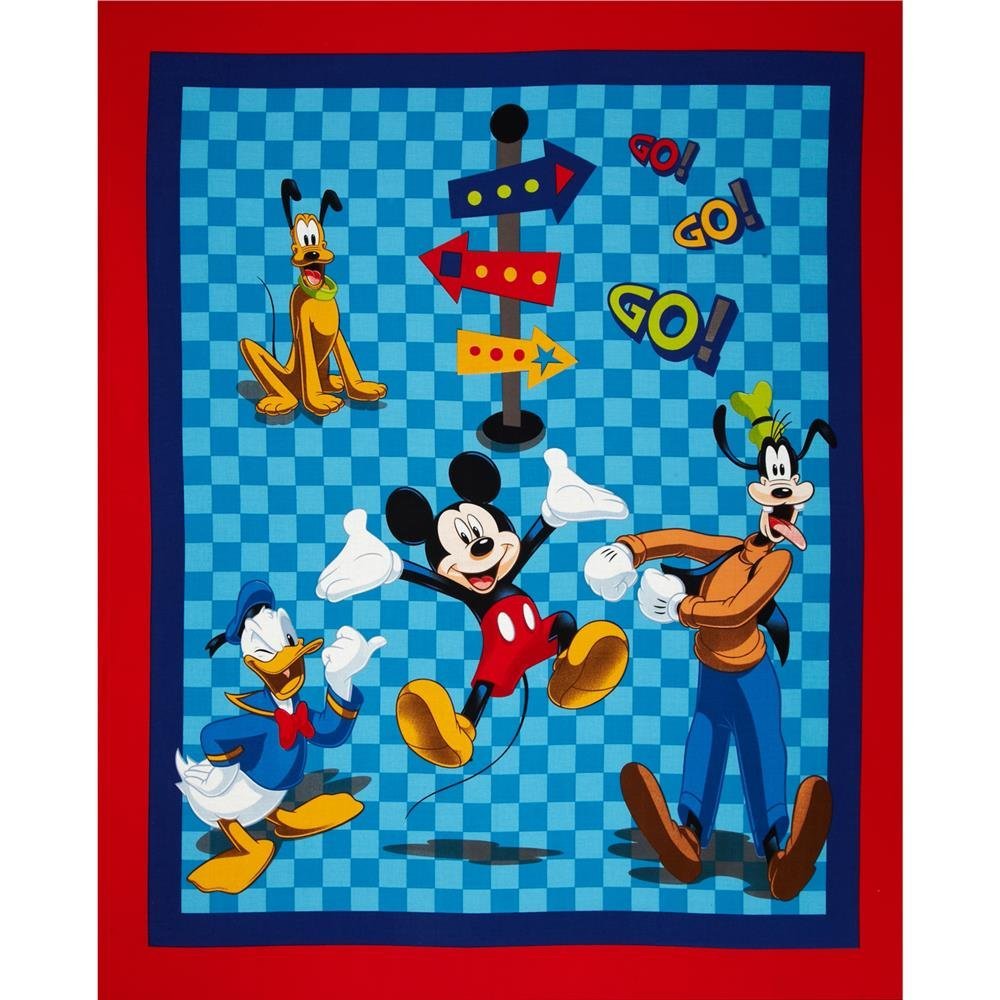 The toddler sized weighted blankets​ are made of 100% cotton front, with cotton/poly blend backing, and filled with hypoallergenic poly-pellets to give them the weight, as well as hypoallergenic poly filling for softness and warmth. The blankets measure 34 x 42 inches and weigh about 5 pounds (for 40lbs. kids).
Got kids that are a little older? This brand has plenty to choose from for kids and teens as well, with bright, fun patterns that feature Olaf from Frozen, Star Wars, Batman and a huge range of awesome designs like glow in the dark star constellations and floral patterns.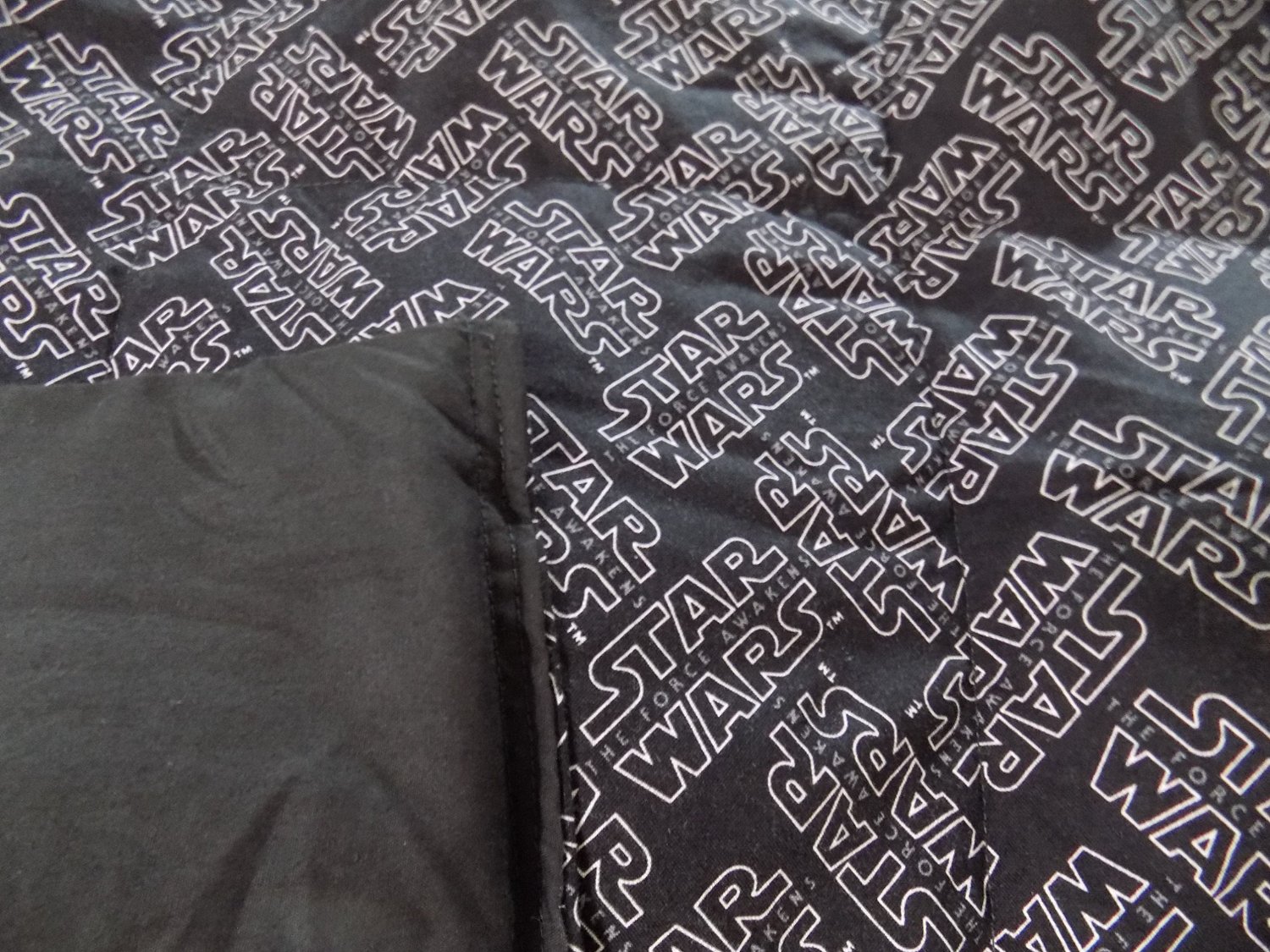 The blankets in this range measure 42 x 60 inches (for up to 5-foot tall kids), and can weigh from 4 to 16 pounds, in one-pound increments, giving you a basic choice of thirteen variants. Add the custom design, and the choice becomes truly staggering.
They're great for both summer and winter, thanks to the breathable fabric going into making them (100% cotton top with cotton/poly blend backing for a silkier feel).
Mosaic is totally dedicated to manufacturing weighted blankets and related comforting products, such as Milky Snakes, Weighted Belts, Weighted Shoulder Wraps, Weighted Vests, etc. The company pays special attention to making quality weighted blankets, each of which is sewn by hand, and made in good ole Austin, TX.
All their weighted blankets are custom-made, filled with non-toxic, hypo-allergenic poly pellets and will usually take 2–3 days to ship (in the States); coupled with the fact that there's the option to send them your own fabric, the choice is virtually unlimited.
And even if you don't want to use your own fabric, they have a huge range of fabrics to choose from – many of which are sure to be very popular with your kids – and varying weights as well, from 5 pounds all the way up to 15 pounds.
Overall, Mosaic is one of the top brands for weighted blankets and when you add in all the customizable options available – this is hands down one of the best weight blankets to get comfy under, especially for kids!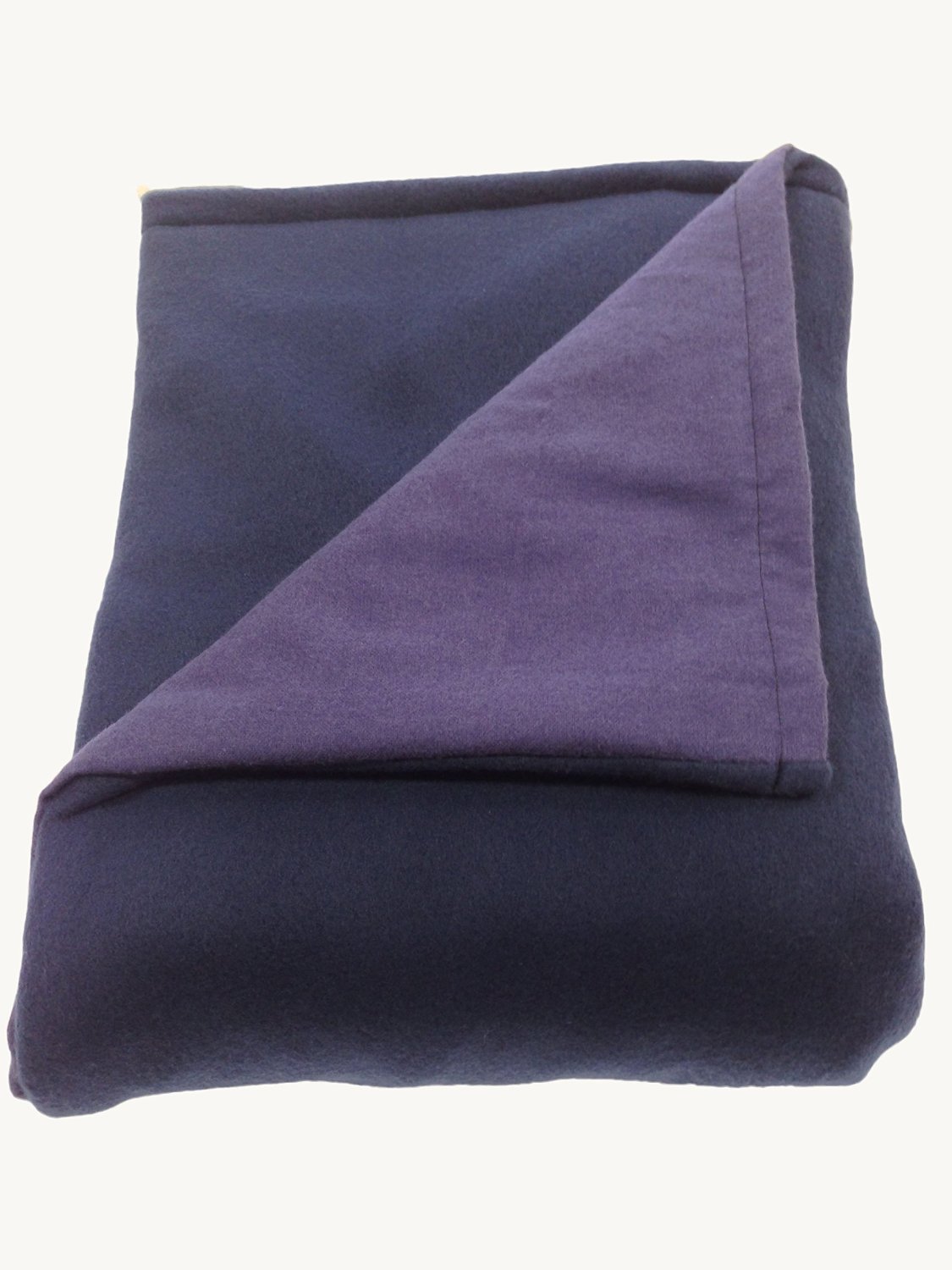 Sensory Goods is a company that aims to meet the special needs of people with developmental disorders, and their manufacturing capacities are geared towards making sensory and therapeutic products, from weighted blankets, vests and belts, over sensory toys and swings, to floor products and accessories.
The blankets range is as follows: small (30×48, 3– 7lbs), medium (41×58, 8–13lbs), large (42×72, 14–20lbs) and extra-large (58×80, 21–25lbs), as well as vinyl-weighted (4–20lbs) and denim-weighted blankets (3–25lbs).
All blankets are made from organic materials, all-natural fabrics and threads, and filled with tiny sand-like glass beads so they look like regular blankets, but with the weight of a therapeutic one.
Our favorite picks from this brand?
100% Organic Cotton Weighted Blanket. This one is a comfortable cotton weighted blanket, which is made of 100% organic cotton, and available in a variety of weights from 4 pounds up to 20 pounds, as well as six different colors (Cream, Purple, Lagoon, Amazon, Ash, and Twig)
Flannel and Fleece Weighted Blanket. This cozy flannel/fleece combo is available in small (30×48), medium (41×58) and large (42×72) sizes (4–20lbs), weight ranges from 4 pounds to 20 pounds and seven different colors (Blue, Navy, Denim, Burgundy, Tan, Forest Green and Hot Pink).
A lot of the best weight blankets come in a variety of designs that are perfect for kids but what about adults? Aren't there any awesome weighted blankets for us grown ups who'd also like a splash of fun color (without the Mickey Mouse designs, thank you very much)?
If you're in this position, you'll want to meet SensaCalm. This is hands down our favorite brand when it comes to weighted blankets for adults, although blankets aren't their only thing – they also specialize in a variety of other therapeutic equipment, such as weighted wraps, weighted lap pads, assorted weighted gear, as well as sensory toys and accessories, all of which are of great help in dealing with autism, ADHD, sensory processing disorders, anxiety fueled insomnia and more.
These blankets are as customizable as you can get – they have a sewing team that sews all of the blankets made-to-order, with approximate size ranging from Small (34×50), over Medium (38×62), to Adult (38×72), and a vast array of fabrics and patterns to choose from.
Extra perk? The weight is up to you to decide, after which the manufacturer fills the desired pattern fabric with hypoallergenic poly-pellets for weight and hypoallergenic fiberfill for softness.
You can choose weighted blankets from 8 pounds (for a child who weighs 50 pounds) all the way up to 40 pounds (for an adult who weighs over 200 pounds) so there's a LOT more flexibility here when it comes to choosing higher weights!
Our favorite picks?
Scuba Blue Weighted Blanket. This gorgeous, deep blue blanket is made of 100% quality cotton fabric and is available in multiple weight levels ranging from 8 pounds to 40 pounds!
Amber Weighted Blanket. Want more color variety? Besides Amber, there are eleven other colors to choose from (Cinnamon, Charcoal, Orange, Fuchsia, Lime, Scarlet, Espresso, Moss, Emerald, Majestic Purple and Spice) and a huge range of weight choices ranging from 8 pounds ot 40 pounds. Although SensaCalm also provides blankets for kids, this range of heavier blankets goes to show they haven't forgotten the larger market (pun not intended).
Sleep Tight is a line of weighted blankets by Sommerfly and just a part of a considerable range of therapeutic weighted products recommended by occupational therapists throughout the States.
The blankets are designed with a curved neck cutout, which keeps the blanket from bunching around the face, which is a nice feature that keeps the comforting pressure while minimizing that suffocating feel.
The blankets also come in a variety of sizes and weight levels, ranging from XS (32×36, 5lbs) and S (36×42, up to 8lbs), through M (42×54, up to 12lbs), to L (54×72, up to 16lbs) and XL (57×80, up to 25lbs).
Our favorites?
​Navy Corduroy Weighted Blanket. This particular weighted blanket comes in S, M, L and XL sizes, and its solid navy color is perfect for pretty much every bedroom. Designed for the comfort of adults and children age three and older, the blanket is made of 100% natural cotton corduroy and filled with a safe, non-toxic, hypoallergenic PET pellet material.
Blue Wave Cotton Weighted Blanket. Much like the rest of the range, this product by Sleep Tight is made of 100% natural cotton corduroy with safe, non-toxic, hypoallergenic PET filling. It features a blue wave top, with navy blue backing, as well as the innovative Tight Sleep curved neck cutout. It's available in S, M, L and XL sizes.
Peace Weighted Products, as the name suggests, manufacture a wide range of handmade weighted products, anything from weighted blankets to weighted shirts, neck wraps and lap pads, as well as weighted plush animals.
Their blankets are filled with safe, non-toxic, hypoallergenic poly-pellets, evenly distributed and quilted into squared off segments; they're washer and dryer safe, as long as your machine can handle the weight, and available in four approximate sizes:
Small – 3×3 feet or 3×4½ feet
Twin 3×6 feet
Full 4½x6½ feet
They also come in a range of weight options, starting from 5 pounds and going up to 15 pounds. They don't go higher than 15 pounds so these weighted blankets are a better option for children or petite adults.
Our favorite thing about these blankets it that they're made of 100% natural cotton ​with no extra lining or padding, making it perfect for both winter and summer. Overall, a very comfortable blanket!
(Visited 65 times, 1 visits today)