Finding the best sound machine for baby might seem to pale in importance when you already have so much on your plate. But when you've already tried bedside rockers, swings, swaddles, pacifiers, rocking chairs and nothing seems to work – it's because you're missing a vital piece of baby equipment.
If you're starting to think that having your baby wake up and cry throughout the night, every night, is just part and parcel of being a new parent. Well, I'm here to tell you that…well, crying is part of the package. No getting around it. Sorry.
But there are decent ways to make the whole process smoother and ensure a better night's sleep for the new born in your family, though. It doesn't all have to be late nights and whispered prayers for sleep.
Enter the best sound machines for baby.
How do sound machines for baby help?
Sound and white noise machines work in much the same way for a baby as they do for restless adults – note, off the bat that these devices are perfectly safe for babies, as long as you take volume into consideration. Remember that your baby's senses are still in their own infancy and loud noises may cause distress, anxiety or even some hearing damage if something is ridiculously loud.
However, the benefits of a baby noise machine are numerous. Sleep is one of the most important parts of a newborn's development – they can sleep up to sixteen hours in a day (if you're lucky)! Using any kind of noise machine that can promote an undisturbed, deep and long sleep is going to be a huge positive for any restless babies and parents alike.
Additionally, because white noise and sound machines create a uniform wall of sound, they'll shield your baby from any aural disturbances in the night, not only cutting down on any stress or night time scares for your baby, but also allowing you to go for a tinkle in the middle of the night without walking on egg shells.
So, all that being said – let's take a journey through some of the best noise machines for your baby on the market today!
What is the best sound machine for baby?
When it comes to baby sound machines, there's quite a variety on the market. And that's a great thing because, to be honest, what works for one baby may not work for another. I've also personally found that my little one preferred one sound machine when he was an infant – the Fisher Price Soothe 'n Snuggle Otter – and another one as he grew into a toddler.
Last but not least, it's also wise to consider where and how often you'll be using the sound machine. For example, if you plan on taking lots of walks with your sleeping baby in a stroller, a portable sound machine is a must.
Okay, let's get to the best picks, shall we?
BEST FOR: Newborns and infants under 1 years old
Warning: you'll be tempted to buy this product purely due to how cute it is… Which might actually be part of the manufacturer's plan. The Fisher-Price Soothe 'n Snuggle Otter is a cleverly disguised sound and light machine which sits in the lining of a snuggly otter doll.
The machine itself comes with several different sound options – gentle music as well as white noise, womb, snoring and heartbeat sounds. But the best thing about this adorable otter is that it also comes with extras that help soothe and settle your baby.
Our personal favorite? The otter's soft belly moves up and down in a rhythmic motion that mimics breathing. Simple but brilliant in how much it helps calm a crying baby. There's also the option of soft light – choose from red, yellow or orange – within the otter's little belly.
And of course, the fact that it's machine washable is a relief since baby's sticky hands, dribble, spit-up and everything else is most likely to get on it. It's also great that's it's washable since this device is very much a portable/travel product – your little one can drop it on the street without worries as you can easily wash the whole toy.
The Soothe 'n Snuggle Otter is advertised as being the perfect fit for carrying in diaper bags, and also runs on AA batteries rather than mains power. Which makes it the perfect thing for your baby to snuggle with during the night as well as to take on trips and long walks around the park.
All that being said, the only real downside is that the sounds play for 30 minute intervals at a time. There is no continuous play mode on the sound machine itself. On the one hand, this actually serves to solve the battery issue, by preserving power but on the other: many babies respond better to sound therapy when the noise is constantly running throughout the night until morning.
So if you're looking for a continuous sound machine, this one might not be the best fit for a more domestic setting, where customers tend to favor something with more variety and the assurance that the power won't run down during the night.
Perhaps best to get this one as a travel sound machine as well as a snuggly nighttime toy and another, more long-lasting sound machine for the baby's room.
As a final note, the price is a little bit steep for a noise machine with such limited capacity and customization but it may be worth noting the craftsmanship in the cuddly stuffed otter that you're purchasing at the same time. Plus, over a ten thousand happy reviews can't be wrong. Read what other parents have to say!
Quick Points:
Sounds: Choose between music or soothing sounds (including white noise, womb, snoring or heartbeat sounds)
Volume: Adjustable
Timer: Runs for up to 30 minutes
Light: Yes, choose between red, yellow, or orange
Power: Batteries required
Portable: Yes
---
BEST FOR: Their signature white noise is calming for infants and adults alike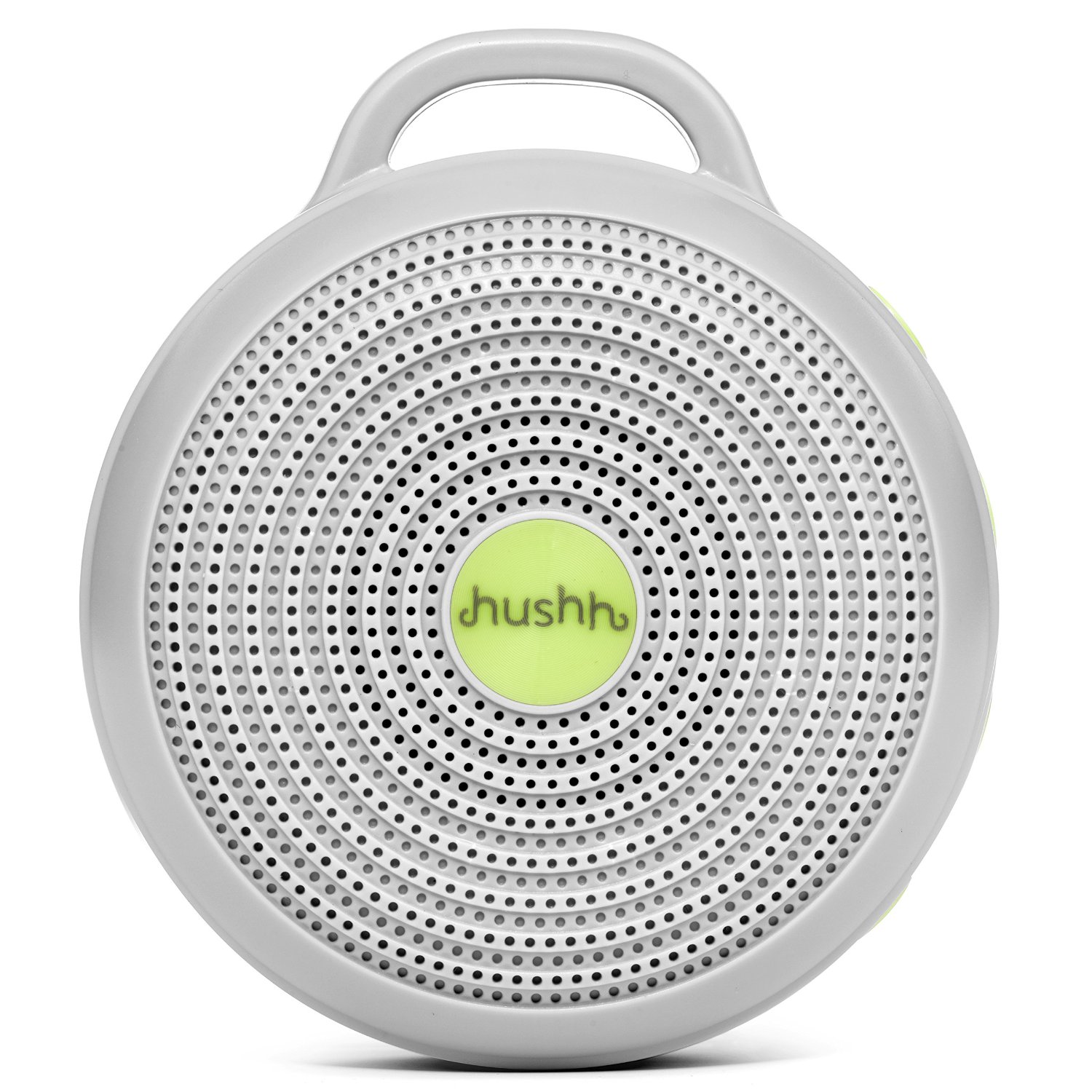 It's a common brand name for anybody familiar with the white noise market – so it should come as no surprise that Marpac have designed a noise machine for babies. This model is another portable electric number.
The Marpac Hushh comes with three sound options – slightly more technical this time, with a bright white noise, a deeper white noise and the third choice of gentle surf. Now, although this is quite limited with regard to sound design, the Hushh does come with some interesting extras that other brands have overlooked.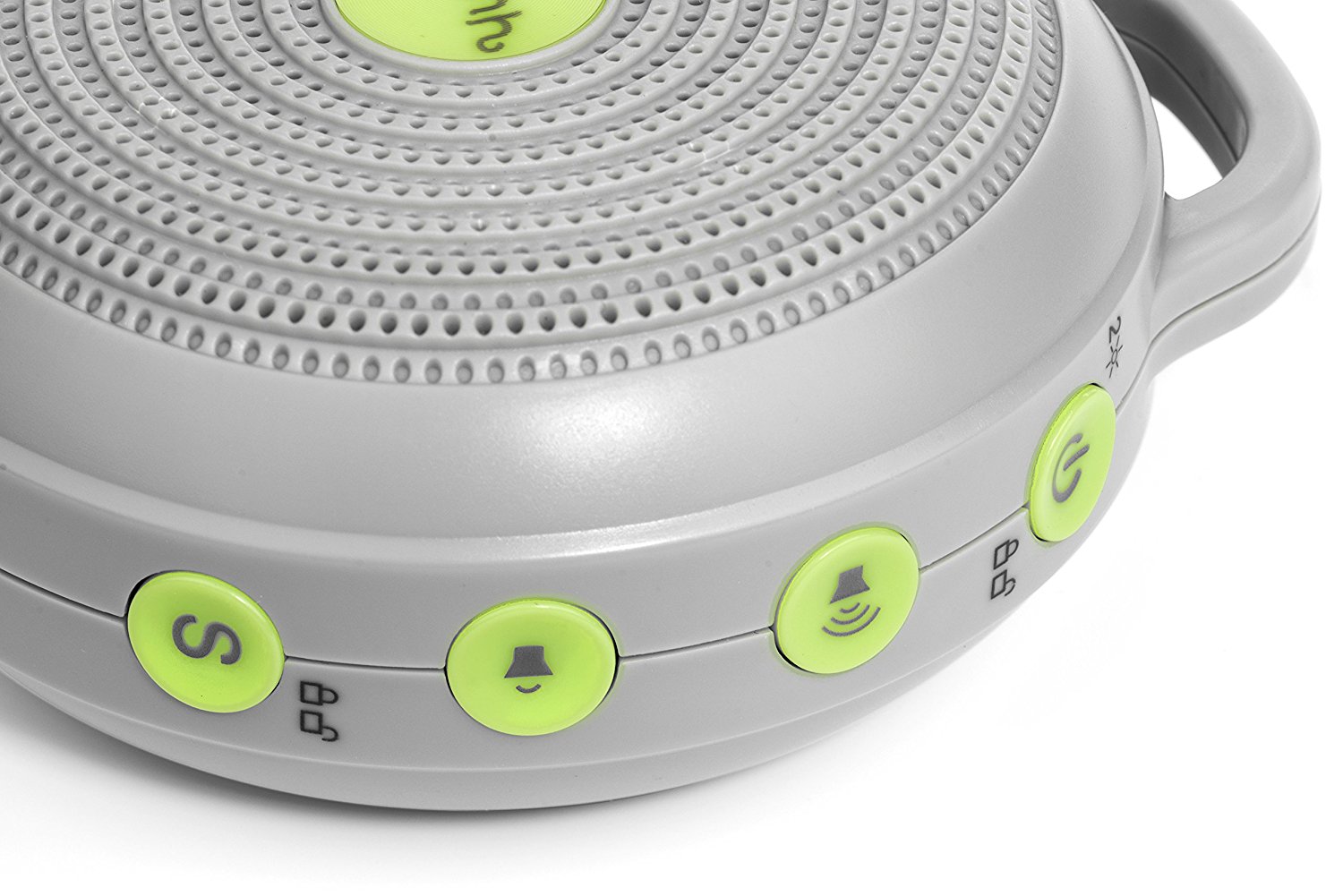 For example, this device comes with a child lock to prevent any inquisitive babies from accidentally turning it off or messing with volume controls on their explorations, as well as an amber LED night light built into the machine itself.
This product also embraces its portable/travel design by including a child-safe clip for attaching the machine to strollers or car seats, as well as coming with a USB rechargeable cable rather than standard battery power.
Criticisms of the Hushh aren't too dealbreaking or surprising. Obviously, the three sound selection is incredibly limited compared to some other white noise machines on the market, and some users have complained about the nightlight being a nuisance (there's no 'off' selection, meaning customers have to blank the bulb themselves somehow).
That being said, if you're looking for the soothing simplicity of white noise that you can take on the go, this is a great option. Read all user reviews!
Quick Points:
Sounds: 3 choices (bright white noise, deep white noise, or gentle surf)
Volume: Adjustable, up to 85 dB
Timer: None
Light: Small amber LED Nightlight, cannot turn it off
Power: Has built-in rechargeable battery, so no batteries required
Portable: Yes, very, weighs under 4 oz. and just 3.5" across. Chargeable and cordless
---
BEST FOR: All-around functionality, from sound choices to light options
There's no doubt that the above Hushh is a favorite amongst parents and insomniacs alike. But if I'm honest, I much prefer the Dreamegg Portable White Noise Machine for baby. Why? It's small but solid, so it makes the perfect compact travel companion while being solidly built that it can withstand the occasional accident – dropping of the diaper bag, a toddler slamming it against the wall.
It's also LOUD. The volume can be adjusted, of course, but for such a small machine, it has the ability to go loud enough to drown out all ambient and disruptive noise alike.
And there's enough variety of noise to choose from for everybody to be happy: it's got 11 soothing sounds including white noise, ocean sound, brook, lullaby, music box, shushing, vacuum cleaner, fetal tone, fair sound, cricket and fan sound.
A huge advantage it has over the Marpac Hushh sound machine is that it has an adjustable, soft night light setting with adjustable light intensity so you can easily keep the light off or choose a dim light to your preference.
But my favorite thing about this sound machine is that it has a built-in rechargeable battery so all you have to do is charge it for an hour or so and then it lasts a long time afterwards even if you choose to carry it around. This has made it a godsend for us as our toddler now sleeps in his room for around 5 hours and then comes storming into our room in the middle of the night. This white noise machine always comes along. Read reviews here.
Quick Points:
Sounds: 11 choices
Volume: 32 volume levels
Timer: Can set for 30 minutes/60 minutes/90 minutes or just continuous
Light: Can turn on/off, soft night light with adjustable light intensity
Power: USB wall plug, has built-in rechargeable battery, so no batteries required
Portable: Yes, very, only 3.4″ in diameter and 5.7 ounces. Chargeable and cordless
---
BEST FOR: Extremely effective (read: loud) white noise
The first thing you notice about HoMedics White Noise Sound Machine is that it's straight to the point – no messing about. The aesthetics of this device are more in line with an air freshener or soap dispenser or something, rather than a baby's sleep aide.
That being said, what it lacks in design, it makes up for in sheer power, aka nothing gets past this sound machine. Whether it's various family members visiting the toilet at night or a garbage truck in the early morning, this sound machine has the power to drown out virtually all noise.
It comes with a choice of 6 soothing sounds: White Noise, Thunder, Ocean, Rain, Summer Night, and Brook. And with all of the sounds, you can adjust the volume – hint: it goes very, very loud.
The only potential downside to the built-in sounds is that some of them are prone to obvious loops and patterns in their structure; this is quite a big complaint for some more adult white noise machines (the mind has a tendency to focus on patterns in sounds, meaning it could potentially keep you awake, rather than send you off to sleep).
However, it's not clear if something like this would be as big of an impediment to a small baby as it would to a grown adult.
Plus, the white noise choice doesn't have the loop issue. And luckily this device runs off of either batteries or mains power, depending on your preference, meaning it straddles the divide between a portable machine and a more stable domestic noise device.
Overall, this is a very simple but effective sound machine. Its best perks are its price and volume. Its main downsides are that it's not built to last and there is no night light. But if you're looking for cheap and powerful – this is a good bet. Read more reviews!
Quick Points:
Sounds: 6 choices
Volume: Adjustable
Timer: Can play continuously or set timer for 15, 30, or 60 minutes
Light: No night light, just a very small green light to indicate it is on
Power: Plug it into a wall outlet with the AC adapter (included) or use 4 AA batteries
Portable: Yes
---
BEST FOR: Doubles as nursery decor and nightlight
We're firmly back into childlike territory here with the Skip Hop Unisex Soother…in the shape of a cool little owl. The design is actually rather clever, allowing not just for a pleasant image but also some technical gadgetry, such as an LED (dimmable) nightlight and an adjustable lens which projects stars on the walls or ceiling.
The outer design also incorporates two fabric wings or flippers, which function as speakers for the actual noises…Skip Hop have expertly combined kitsch child-friendly design with functionality.
What's interesting about the function of this device is that Skip Hop have combined tradition with modernity in their sound design. The Soother offers a choice of four melodies including Twinkle Twinkle Little Star and Rock-a-bye Baby, as well as another four nature soundscapes (rainforest, jungle crickets, waves and white noise with a heartbeat).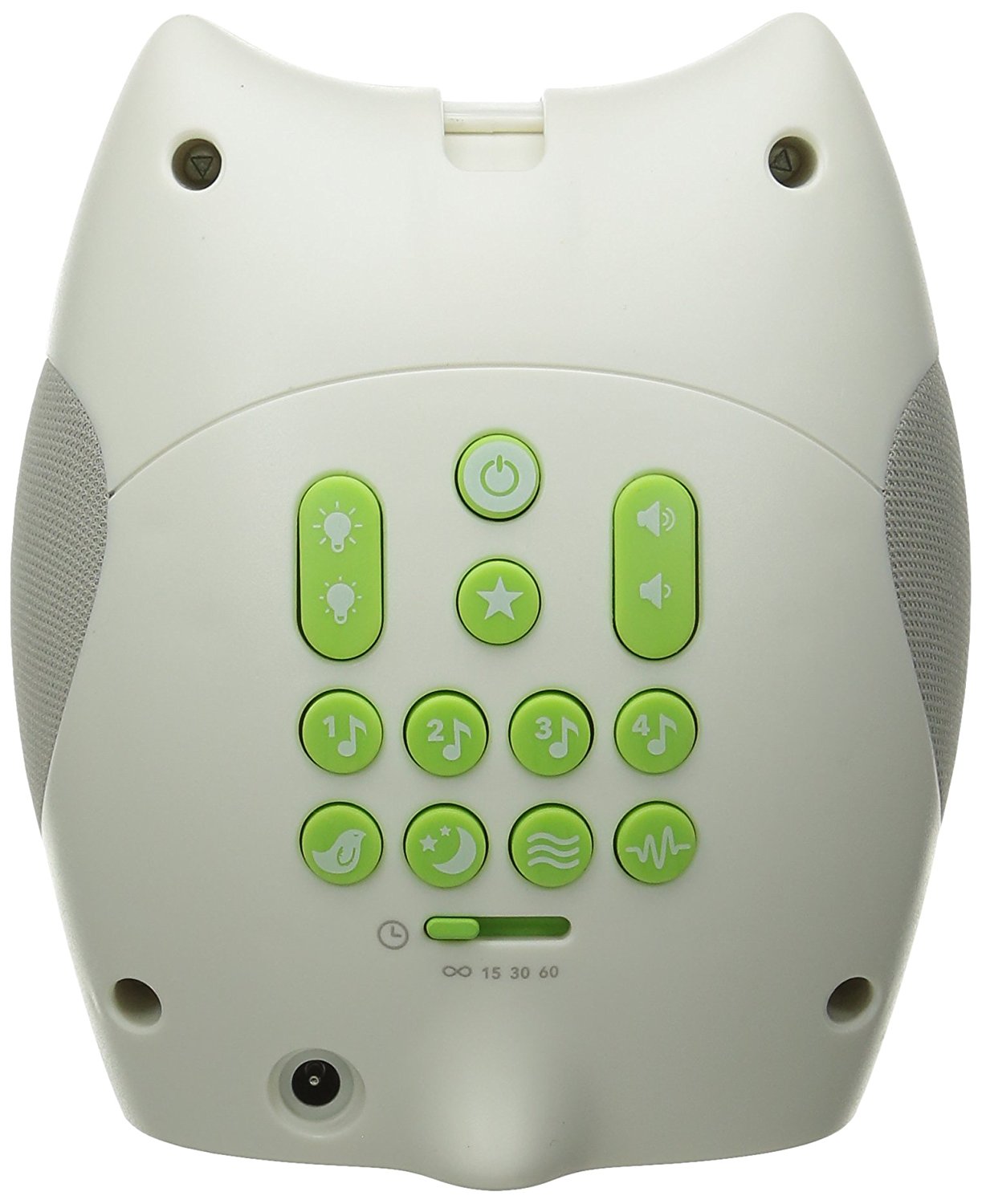 The customization allows parents to essentially create their own little light show with the ceiling/wall lens and the choice of sounds – and an off timer with staggered selection; 15, 30 or 60 minutes.
There is one potentially major drawback with this device, however. Rather than running on batteries or simple mains power – this sound machine plugs directly into the wall socket. This might make the projector aspect a little more interesting, but it seems destined to hamper sound quality if the machine is tucked away in a corner somewhere and of course, makes it difficult to use on the go.
As you might expect from the level of design and customization in this device, the price is a direct reflection. That being said, this is still cheaper than some other models with less functionality on the market. Read all user reviews!
Quick Points:
Sounds: 8 choices, including 4 melodies (Eine kleine Nachtmusik, Twinkle Twinkle Little Star, Brahms Lullaby, Rock-a-bye Baby) and 4 nature sounds (Rainforest, Jungle crickets, Waves, White noise with heartbeat)
Volume: Adjustable
Timer: Can play continuously or set timer for 15, 30, or 60 minutes
Light: Options are a dimmable nightlight in the owl's belly and an adjustable pivot lens that projects a starry night-scape onto any surface
Power: Plug in power, not rechargeable
Portable: No
---
BEST FOR: Calming an infant to sleep
Our final recommendation for the best sound machine for baby is the Baby Shusher (points for no-holds-barred naming, at least, huh?) – an interesting looking device that resembles some sort of orange bowling pin – this might be an important design choice however, given the type of sound this machine makes.
As the name may suggest, this isn't a simple melody player or white noise machine, instead the shusher does exactly that… it shushes. The whole concept is based upon Dr Harvey Karp's principle of the "Five S'", the fourth of which is shushing.
Essentially, the noise is a long, drawn out shhhhhh type of sound which is meant to remind the baby of some of prenatal sounds of being in the womb, with a relaxing rhythm specifically designed to promote calm and relaxation.
Although this device comes with a volume control, the philosophy behind the device seems to state that the volume should be louder than the baby's cry… of course the volume is entirely down to your own discretion, but it's worth remembering that very loud noises can be harmful to a new born in the wrong context.
Additionally, the Shusher is another battery powered device that, even with its two timer options of 15 and 30 minutes, will require lots of switching out of fresh batteries if used regularly.
The Baby Shusher retails at a bit above the market average, which makes it feel like a very specific, almost bespoke product, given its limited ability (shushing and nothing else. It seems like a device targeted at parents who are on the lookout for this very thing, rather than new parents looking for a customizable, varied noise machine to experiment with. And coming from a parent, that's a very good thing, as our infant required loud shushing to get him to sleep for the first year of his life and this saved us from sheer exhaustion. Read all user reviews!
Quick Points:
Sounds: Just 1 choice – a real human voice, lull your baby to sleep with a calming shush
Volume: Adjustable
Timer: 15 to 30-minute timers
Light: No
Power: Comes with 2 AA batteries
Portable: Yes, even comes with a removable wrist strap so you can carry your baby while putting them to sleep
---
Hopefully this guide through some of the more popular baby sound machines will have cleared up the grey areas for you – there's much to choose from and many different directions to go in, but really it all comes down to what you want and expect from your machine.Best of luck!
(Visited 92 times, 1 visits today)