Your mattress does so much for you. It's snug. It's cozy. It provides comfortable support for all your bedtime activities. Isn't it about time you return the favor?
'Cause guess what? Your trusty mattress will never tell you this but its wellbeing is in danger everyday.
There are just so many hazards facing a mattress on a daily basis! Your cats. Your dogs. Small children. Sweaty nights. Drinking – and spilling – anything from hot chocolate to soda in bed. And between us ladies – how many of us have woken up to find that Aunt Flo has decided to come earlier this month?
All of these little incidents can transform your once pristine mattress into a stained, icky mess.
The good news? Your mattress doesn't have to be affected by anything life throws its way. Ever. All you have to do is get a waterproof mattress protector.
This little baby takes all of 2 minutes to slip onto your bed and will keep your mattress clean and safe from all the elements that can dirty it up!
And it doesn't just keep things clean – it comes with other healthy benefits, like…
One of the greatest benefits of a mattress protector is that it doesn't just protect the health of your mattress – it protects your health as well. A good mattress protector not only keeps out stains and spills, but it repels bed bugs – nasty little creatures that suck your blood and are very hard to get rid of – and makes it impossible for the suckers to live in your bed. 
Protectors also help alleviate allergy-related problems, repel dust mites and dust altogether.
Now that you know how awesome waterproof mattress protectors are, we should let you know that they are not all created equal. Yup, as with all things in life – some waterproof mattress protectors are simply better than others.
Here's a list of factors that you'll want to look at in order to choose the best one!​
How to Choose the Best Mattress Protector
What are the things you need to look at when choosing a mattress protector? Here's what you need to know!
A waterproof mattress protector's ability to absorb is measured by its thickness, or, rather, by the number of layers the protector has. Waterproof protectors offer absorbency as well as moisture protection, and a good quality protector can hold up to 6 cups of liquid.
When choosing a protector, check if it is top only, or if it encases the whole mattress. Encasing protectors are much better for people who roll in their sleep a lot because they cover the entire mattress and won't slip out of place every time you kick in your sleep.
The composition of the protectors is important. Some protectors feature vinyl pads that do an excellent job repelling moisture, but is not breathable, and it may reflect moisture back, as well as being quite hot. Breathable protectors contain polyurethane that absorbs moisture and does not reflect it back.
Protecting your mattress is great but if you wanted to feel like you're sleeping on a plastic tarp, you'd…just sleep on a plastic tarp! The best waterproof mattress protectors do their protecting noiselessly.
Don't settle for getting a protector that makes squeaking, crinkly sounds, and makes you feel like you're sleeping on a plastic bag. Those are not only uncomfortable but completely unnecessary – there are much better, high-quality protectors that are soft and soundless!
Protectors keep your mattress clean but they can get quite dirty themselves so you want to make sure there's a convenient way to wash your mattress protector when the time comes. Vinyl mattresses can be wiped clean, while you ought to machine wash the polyurethane ones.
Okay, now that you know all about how to choose the best waterproof mattress protector, let's get to meeting some of them, shall we?
What is the Best Waterproof Mattress Protector? Our Top 5 Picks
You could go sifting through the endless selection of waterproof mattress protectors on the market but why waste time sorting through the riffraff when you can choose from the best?
Here are the top 5 best waterproof mattress protectors currently out there – you really can't go wrong with any of these options!
The SafeRest protector is one of the best mattress protectors, and here's why – the mattress combines the best materials and cutting edge technology to bring about a feel of complete protection possible. The SafeRest Invisa-Shield technology allows this protector to be silky smooth and connect with the mattress so perfectly that you even know it's there.
The best thing about this protector is that it is breathable. This meant it is made of polyurethane, and under no circumstances contains any vinyl. This, in turn, means that the protector is hypoallergenic, and effectively repels dust mites and bed bugs.
The mattress has been approved by the FDA as a Class 1 medical device, so you know that it's effective, the protector is also noiseless, and is perfect for people with kids, pets, asthma and other allergies. Finally, the protector has a 10-year warranty, which is a sign of this item's quality. Read all user reviews here!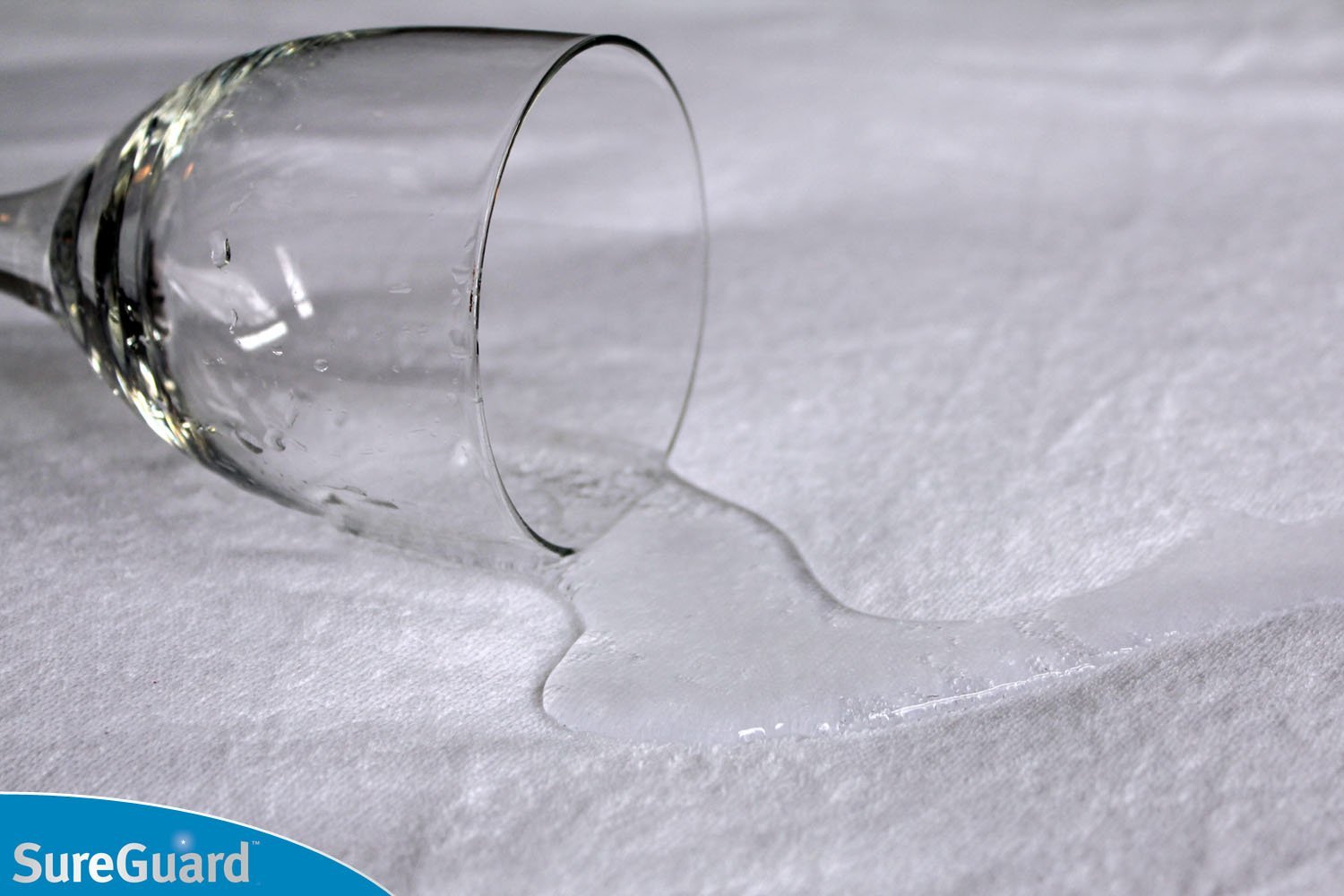 This SureGuard protector is just as good as the previous, providing the same level of protection. It's completely, 100% waterproof – seriously, nothing gets through this one, even the worst potty training accidents. It is also noiseless, soft and gentle on the skin, so it won't disrupt your sleep by making unnecessary and inconvenient sounds nor by irritating your skin.
Want more perks? This protector is also hypoallergenic and repels dust mites and bed bugs, as well as other allergens, making it a great choice for small children to sleep on, or for persons with asthma, eczema or other allergies and afflictions. The protector is made of polyurethane, so it is fully breathable and contains no vinyl. The mattress also comes with a 10-year guarantee. Read all user reviews!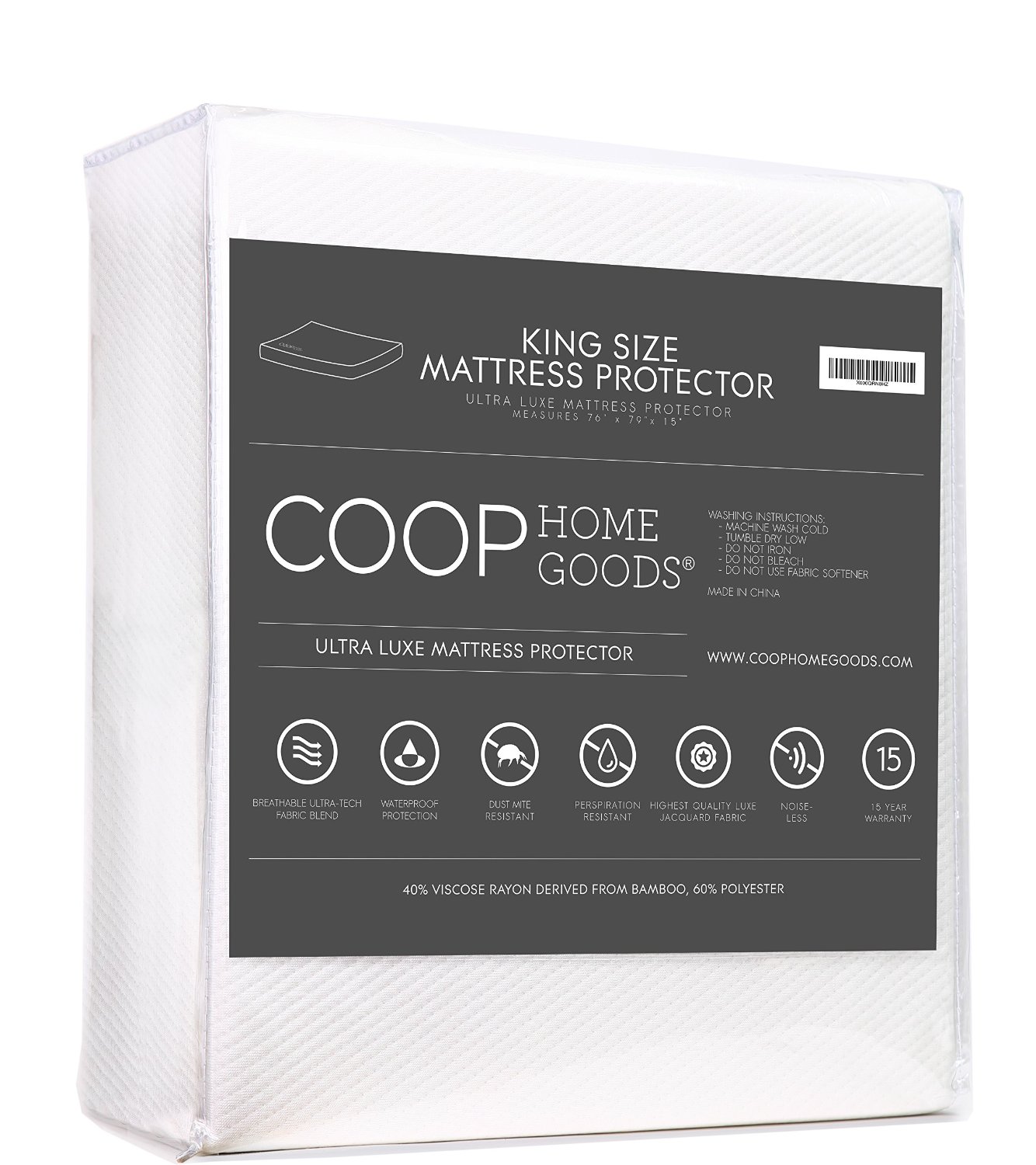 Is your mattress under siege from sweat rather than potty training incidents? This is the perfect mattress protector for hot sleepers! Coop Home Goods's Ultra Luxe Mattress Protector is made of polyurethane, making it breathable, and it won't be uncomfortable due to the moisture being reflected or the protector getting too hot. In fact, a bamboo polyester has been added to ensure cooling, and otherwise maximum comfort when sleeping.
Another huge advantage of this particular mattress cover is that it's got an AccuFIT Mesh band that can expand to fit mattresses that are as thick as 18 inches! ​So if you've got a pillowtop or use a thick mattress pad on top of your mattress, this one's the perfect pick.
And of course, in terms of protection, this one offers a solid level of protection and waterproofness – whether it's sweat (it won't be, with this one!) or heavier liquids. The protector is made of a very thin but highly durable and waterproof material, so no accident can get to what's underneath.
The protector is, naturally, hypoallergenic, making it superb for people suffering from dust allergy and dust mite allergy. The protector is high-quality and does not produce noises. It comes with a whopping 15-year warranty. Read all user reviews!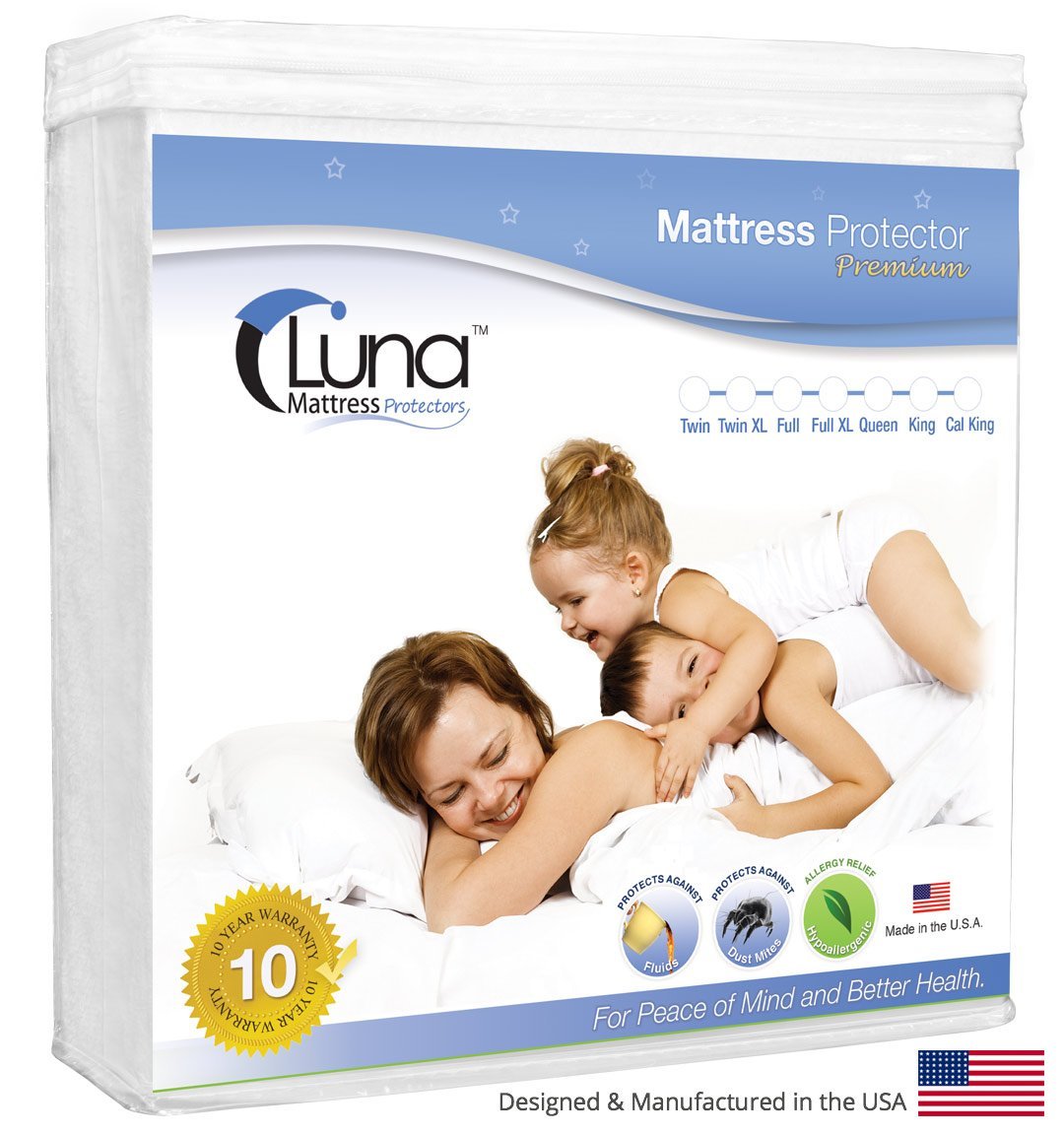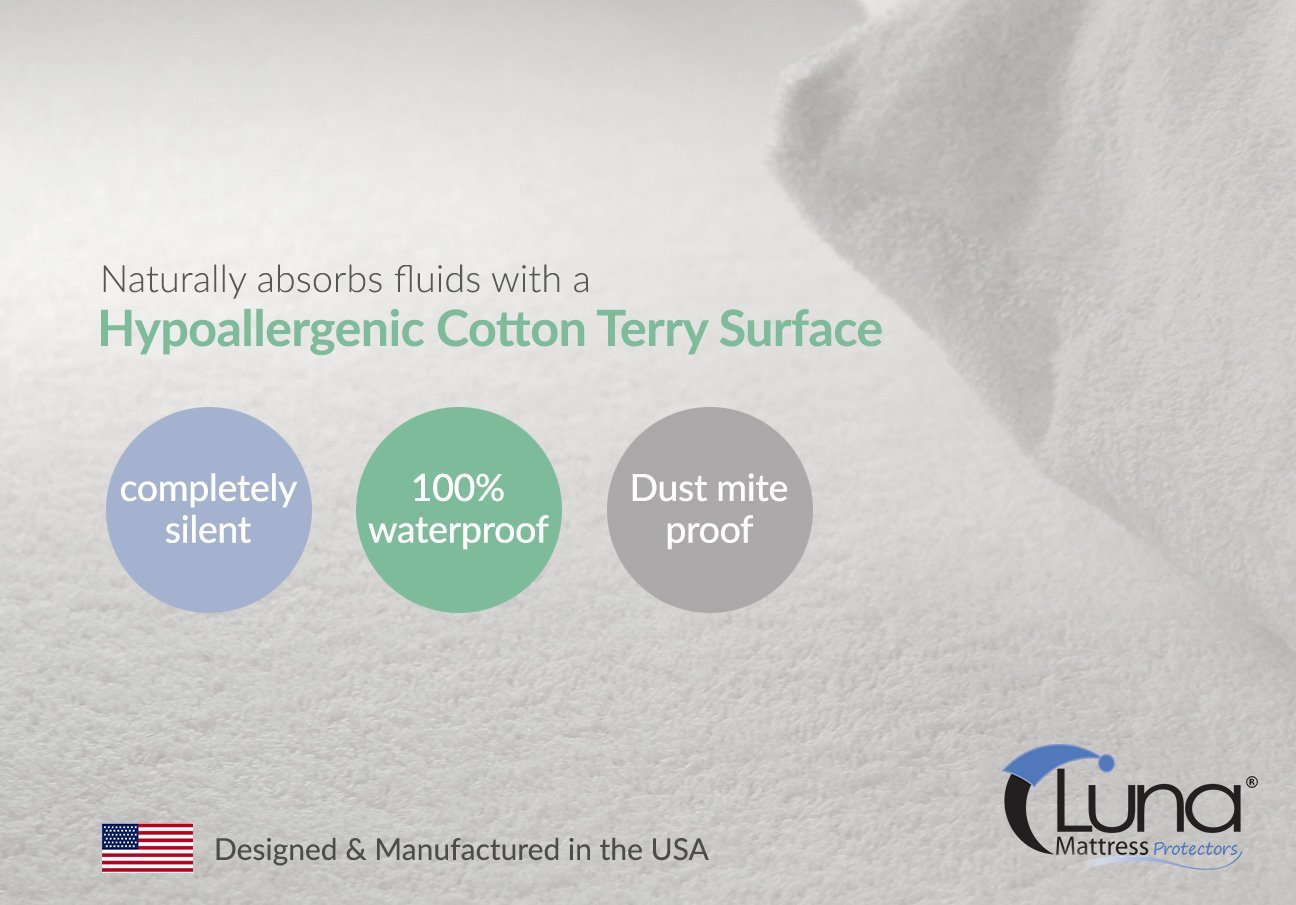 Luna Premium is a company that leaves nothing to chance when it comes to their customer's health. This is why their mattress protector is of the highest quality, and they offer you a 10-year warranty. The protector is 100% waterproof and hypoallergenic. This means it repels with zest all kinds of pests – dust mites, bed bugs, dust, and sweat – anything that might trigger an allergic reaction.
To ensure maximum comfort, the protector is made of polyurethane to enable your skin to breathe, and the Luna Airflow Technology allows air to flow freely but ensures the protector is watertight. The material again makes the protector smooth and soft and gentle. The protector does not produce any sound when you sleep on it.
The protector is perfect for people with asthma, allergies and eczema, and for little children who frequently wet their bed. It is also great for people who own pets so that pet hair doesn't get onto the mattress. Read all user reviews!
And last but not least on our list it the LUCID Super Soft Mattress Protector. Just like all the others that made it to our list, this protector is 100% waterproof and hypoallergenic, making it perfect for people with asthma, eczema, and allergies. The protector is highly efficient at repelling bed bugs and dust mites.
So what differentiates this one? For starters, it's very lightweight and thin – it's unfilled so if you don't like the feeling of sleeping on anything but thin sheets, this is perfect for you. But our favorite thing about this protector is that the fabric used to make it is made of 70% rayon from bamboo and 30% cotton, which creates the perfect jersey fabric that's super soft, highly breathable and does a great job moving moisture away from your body.
So if you're a hot sleeper who tends to sweat a lot – this is a great, lightweight​ choice for you.
Oh, and in case you were wondering: despite the thinness of this protector, it does a brilliant job of protecting against liquids!​ And it comes with one of the longest warranties on the market: the company, as a token of quality and commitment to their customer's health, offers a 15-year warranty. Read all user reviews!
(Visited 49 times, 1 visits today)