Are you among the 63% of Americans that sleeps on your side? Chances are you are, as a vast majority of people sleep on their side, whether curled up in a fetal position or lying straight like they swallowed a broom.
​Whatever your side sleeping preferences, it's all good. Sleeping on your side is actually considered the second healthiest sleeping position and is beneficial for those who snore, have sleep apnea or neck and back pain.
It's also especially recommended during pregnancy, as it alleviates the pressure on the lower back, and especially sleeping on the left side, because it stimulates circulation to the heart.
Also, sleeping on the left side is beneficial to those who suffer from heartburn and acid reflux. However, despite these obvious advantages, side sleeping is not without its drawbacks, such as the strain on the stomach and lungs, as well as an adverse effect on your muscles, commonly also known as the squished-arm-numbness syndrome.
So how do you keep all the benefits of sleeping on your side and diminish the downsides? ​By keeping a few side sleeping tips in mind, of course!
Tips for Side Sleepers
So, what are the challenges that you, as a side-sleeper, are likely to face, and what can help you to overcome them? The biggest problem, as you might be well aware, is the fact that our shoulders and hips are wider than the rest of the body.
This leads to two possible outcomes for a side-sleeper – either you end up sleeping on your arm, or you scrunch up your shoulders to your neck. In the former case, you get a dead arm and tension in the upper back, in the latter tension and soreness in the shoulders.
In any case, it's no bueno. The good news is that you can diminish the chance of pain and discomfort by adjusting your sleep environment. Here's how…
One of the best things you can do for yourself as a side sleeper is to choose softer bedding. Firm mattresses simply don't have enough give to comfortably accommodate your hips and shoulders and can cause discomfort, which in the long run leads to pain.
Softer mattresses are much better choices for side sleepers but you don't want to go too soft – a bed that provides no support places your body in an awkward slumping position that can also result in aches and pains.
The ideal bedding situation for a side sleeper is a medium-soft mattress that's topped off with a comfortable, plush mattress top. This set up provides the best support while also cradling the curves of your body as you sleep on your side. Think of it as the perfect combination of support and structure with softness and cushion.
But what if you already have a mattress and don't want to get a replacement anytime soon? That's fine – just choose an appropriate mattress top. If you have a firm mattress, go for a softer mattress topper that's at least 3 to 4 inches thick to counterbalance the firmness.
If you have a medium-firm mattress, you can get away with a thinner mattress topper of around 2 to 3 inches.
What about the material of the mattress topper? There are several types of materials used for mattress toppers but the best for side sleepers are memory foam, gel memory foam and (natural) latex, each of which has certain advantages and drawbacks, as you might expect.
As far as memory foam goes, that's what you take if you want comfort. The foam contours to your body, which is important for side sleepers as it provides equal support to all the parts of your body it contacts. The downside is that it does have a tendency to retain heat, though, so it's probably not the best choice for hot sleepers.
The gel memory foam, however, is much cooler. Don't let the name fool you, though, it's just plain ole memory foam infused with some sort of cooling gel, so you get almost the same comfort, but with less heat. One major drawback is the chemicals that go into making these so these mattress toppers do tend to smell and should be aired out for at least 24 hours.
Still, if you tend to "sleep hot" but still want the contouring comfort of memory foam, the cooler gel memory​ foam mattress toppers may be your best bet.
For a firmer, bouncier feel and slightly stiffer support, turn to natural latex toppers. This type of material is also known for its greater durability and unquestionable performance consistency, but it doesn't provide that comfy sink-in feel and pressure relief memo-foam does. The upside? They don't smell.
What's the Best Mattress Topper for Side Sleepers?
A good, supportive yet soft mattress topper is the frontline in your defense against the dangers of side sleeping. The best mattress topper for side sleepers accommodates the natural curve of the body and allows you to relieve the pressure from your shoulders and hips, as it lets these parts of your body sink in and share the burden.
Not to mention, they can take your slumber from I-slept-okay to OMG-I-don't-want-to-get-out-of-bed! So you want to choose wisely.
​To help you do just that, we've reviewed the best mattress toppers for side sleepers. Read on to find your perfect bedding soulmate!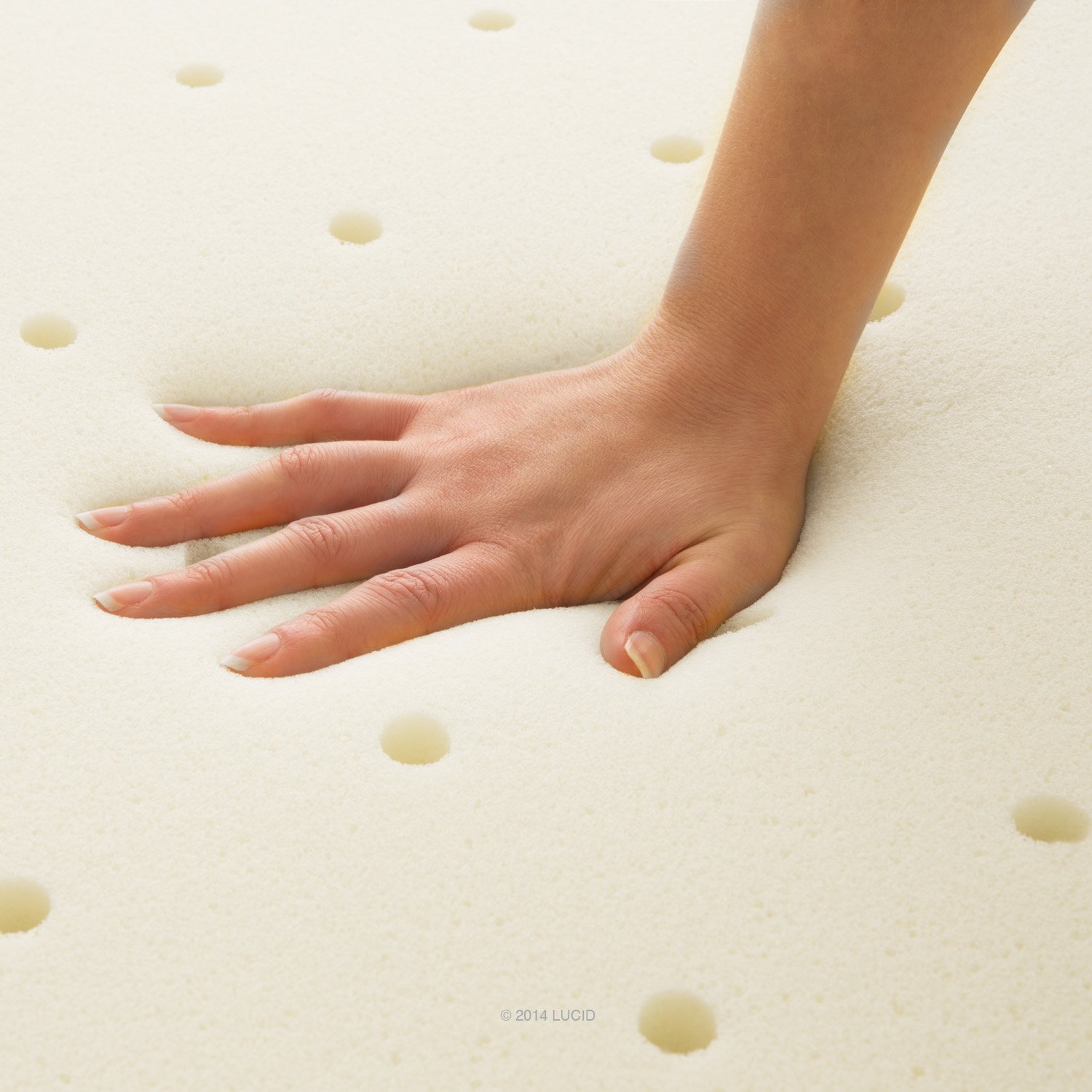 This 2-inch memory foam mattress topper is an excellent way to spruce up your mattress without breaking the bank, and it's available in nine sizes, so you can take your pick. Better still, it comes with a three-year warranty.
As you might expect from a product made of memory foam, this topper contours perfectly to your body and cradles it, providing optimal support at your natural pressure points.
At two inches, the topper is thick enough to allow your shoulders and hips to sink in, which lets the rest of your body share the load, so to speak. The Open Cell technology prevents any lasting body impressions, so the topper should serve a multitude of users equally well.
The perennial problem of memory foam products – heat retention, is solved thanks to the increased air flow as a result of ventilation holes (a concept so simple, yet so brilliant), so no more night time tossing and turning, at least on that account.
If you happen to be a hot sleeper that prefers sleeping on the side, then this topper from Iso-Cool should be the thing for you. With three inches of thickness, the topper will give you plenty of room to sink in and get the much-needed pressure-relief from your hips and shoulders. This can be a con, though, as much as a pro, as people with narrow shoulders will be "swallowed" by the topper.
As far as support goes, it's just what one might expect from a memory foam topper – the material contours to your body, following the natural curve of it and providing support at the body's natural pressure points. Despite any misgivings you might harbor, the memory foam will not take lasting body impressions. Still, just to be on the safe side, you could flip it over occasionally.
When it comes to staying cool, the topper faces the same problems as the rest memo-foam products, but this is significantly alleviated by the hypoallergenic and machine-washable cotton cover that comes with the purchase.
For all the eco-warriors out there that want to catch a few z's between bouts of saving the world, here comes a 100% natural latex topper from Sleep On Latex. The difference between a natural and synthetic latex is, besides the obvious one, the toxicity level of each material, and while synthetic latex can be risky, at best, the natural one is not only 100% safe but it's also eco-friendly.
As opposed to a memory-foam topper, this one feels firmer and gives more support, It's about two inches thick, so even though it doesn't provide the same sinking feel as a memory foam one, it's still more than enough to relieve some of the pressure from your shoulders and hips.
There are three levels of firmness available at the company – soft, medium and firm. If you're looking for something to help you with your sciatica and hip pain, we recommend going for the soft variant; otherwise, medium and firm will do nicely, especially if you need that extra support.
Coming from one of the major players in the industry, this 4-inch dual-layer mattress topper is the closest thing you'll get to a cloud. It will cost a pretty penny, but rest assured you'll feel where each and every penny went (not into the topper, just so we're clear).
To help you get your beauty sleep, the topper features two layers – 2-inch thick gel-infused memory foam for superb cooling and a just as thick layer of fluffy fiber fill for that comforting, sinking sensation.
Although it's good for back- and stomach-sleepers, the topper really comes into its own for a side-sleeper, as the fiber-fill layer provides the room for your shoulders and hips to sink, while the memory foam layer gives the pinpoint support, contouring to your body and following the natural curve of the spine. The topper will cradle your body and that of your significant other, letting you spend a night without even noticing each other moving.
Finally, the topper lets you enjoy peace of mind thanks to the ten-year limited warranty. Hands down the best mattress topper for side sleepers – this one can soften up even the firmest mattress.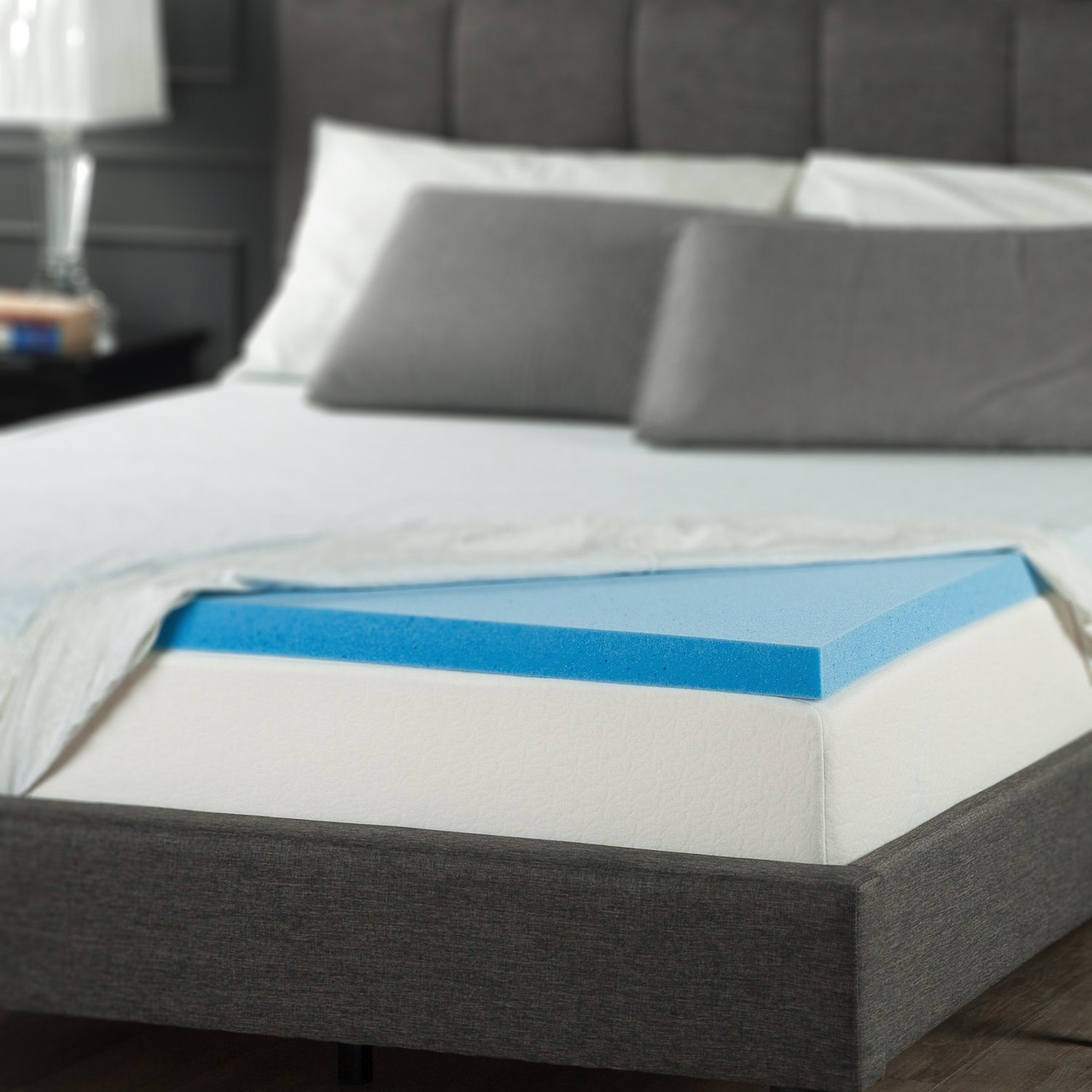 If you feel tired and sleep-deprived because your mattress doesn't give you the support and comfort you need, don't worry about it. Simply spruce it up with the 2-inch gel memory foam topper from Zinus. This one is perfect for those of you who have medium-firm mattresses and are just looking for a little extra softness.
The two inches are quite enough to let your shoulders and hips sink in and relieve the greater part of pressure these points otherwise bear during the night. As is the case with memory foam products, this topper also follows the contours of your body, bending and taking its shape to provide optimal pinpoint support. The "cloud" effect is somewhat lesser than that of a standard memory foam topper, but the "cool" factor more than makes up for it.
The topper is not only ideal for side-sleepers, it's ideal for hot side-sleepers, providing solid eight hours of uninterrupted sleep, after which you're guaranteed to wake up relaxed and refreshed. Moreover, you won't lose any sleep over the topper, at least for five years, which is the period covered by the manufacturer's warranty.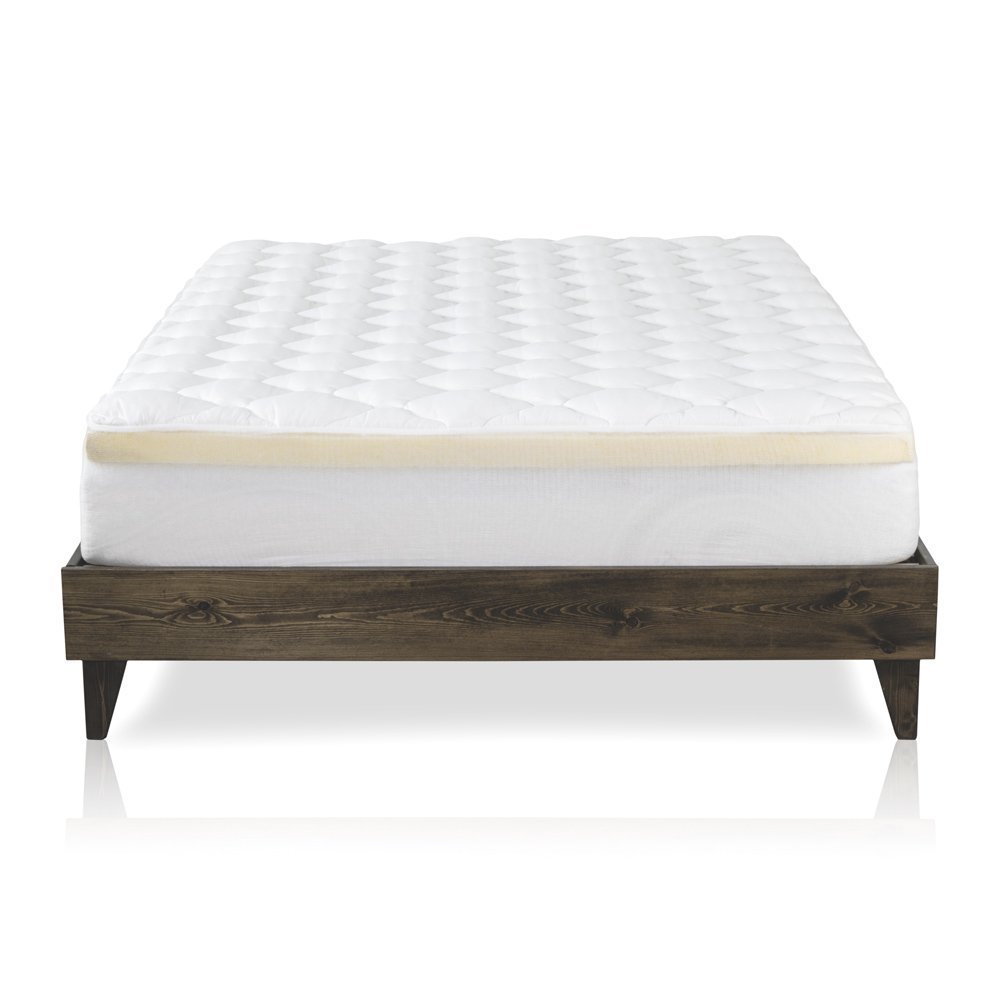 This exceptional mattress topper delivers exactly what it says on the tin – you get about twelve inches of plush, pleasant sleeping surface, almost as if you bought a full mattress. This can be viewed both as a pro and as a con, depending on which side you stand (or lie).
On one hand, it gives you plenty of sinking room, thereby relieving the pressure from shoulders and hips, but on the other, if you're not used to it, it might leave you with a sensation of being swallowed. It's also not very suitable for people who need the extra support, like those suffering from sciatica and hip pain. Still, it's great for sprucing up older mattresses or softening firm ones, as well as cooling hot mattresses.
The topper is filled with a state-of-the-art fiber-fill by the name of Revoloft, which is designed to provide superlative comfort, though it comes with a bit sacrifice in the support, but purely due to its thickness, rather than the quality of the material.
(Visited 41 times, 1 visits today)