Looking to find a way to stay toasty in cold weather, but don't want to drown yourself in layers of blankets? Or perhaps you have aches in your joints and muscles, and want a good night's rest with some pain relief? Don't lose any more sleep over it, and scoop up one of the best heated blankets.
Heated blankets do not only keep you warm during chilly nights, they also help to alleviate symptoms of a host of afflictions, such as arthritis and fibromyalgia, muscle soreness and aches, back pain, tension, and more.
Not to mention, if your significant other is a hot sleeper, while you are not, having a heated blanket will help you stay warm without having to opt for the less flexible option of a heated mattress pad or heat the entire room.
Speaking of heating the entire room – a heated blanket is a super simple way to stay warm and cut costs during winter by turning down the thermostat at night and using the blanket for localized heating.
Not only is it good for the budget, but it's a smart, convenient way to customize your own temperature control – no matter how different your need are from your partner's!
Ready to get one of your own? Here are the best heated blankets on the market!
Best Heated Blanket Reviews
Do a quick Google search and you'll find that there are a whole lot of heated blanket options to choose from. But they're not all created the same.
Nope, when you're looking for the best heated blanket to keep you warm throughout the winter months, you'll want to consider several factors like how many levels of heat it has, how hot it can get, how quickly it can get hot, whether it has a auto shut off feature as well as other special perks it comes with like dual temperature controls (perfect for couples).
To help make your decision easier, we've rounded up the best heated blankets on the market complete with all the details you'll need to choose the perfect one for you! ​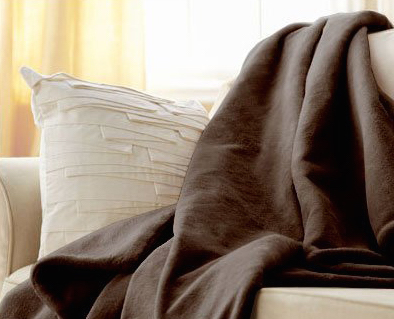 If you're looking for an easy and "green" way to stay warm, you might consider the Sunbeam Microplush electric throw. Declared America's #1 heated throw blanket, this ultra-soft puppy really recommends itself.
The throw is made from ultra-luxurious polyester micro plush so it's beyond soft and cozy. The material feels great on the skin, so you can even use it unplugged, provided it's not too cold. It measures 50 x 60 inches, so it can't cover you head-to-toe if you're lying prone like a regular blanket would (or regular heated blanket, for that matter), but it's more than adequate for lounging around during those long, winter evenings.
This heated blanket enables you to choose any of the three available temperature settings and has a Thermofine warming system that senses and adjusts to body, bed or bedroom temperature changes to deliver consistent warmth.
Don't like to get too hot once you're asleep? The easy-grip Prime Style controller has a 3-hour auto-off feature which is especially great if you're forgetful, or tend to fall asleep easily.
Moreover, the blanket is machine-washable, but it's recommended to air-dry it for best results. Overall, this is probably the best heated blanket you can get at this price point!
If you're looking for something gorgeous to keep your bed warm all night (yes, we're still talking about blankets), Biddeford's micro mink and sherpa heated blankets are among the best.
Why? For staters, it's got a uniquely soft and cozy look to it. The blanket makes use of two distinct fabrics – Sherpa (fleecy inner side, designed for comfort) and Micro mink (think smooth and silky) so you can rotate between whichever feeling you want. The blanket is also completely machine washable, but it's best if you air-dry it, rather than putting it in the dryer.
There aren't too many color options available (only comes in sage green and linen beige) but there are plenty of sizes to choose from (Full, King, Queen, and Twin).
As far as the tech side goes, the wiring is thin enough to not be felt at all through the fabric, while the digital controls offer ten different heat settings. It can get really, really warm so if you're looking for a very toasty option – this one is a great bet!
Moreover, for the sake of convenience, as well as safety, there's a ten-hour auto shut-off feature, while the dual temperature control is available for King and Queen sizes, but not Twin or Full.
One minor gripe, though – the digital controls are all fine and dandy while you're awake and alert, but they require you to look at them when choosing the desired setting, which is kind of uncomfortable during the night, and it might involve putting on glasses.
Other than that, though, this is a great heated blanket for those needing lots of warmth during the night!​
Coming from America's #1 manufacturer of heated blankets and related products, the Sunbeam Channeled Velvet Plush brings a cost-effective solution to your heating problems. And it's as versatile as it gets – the blanket is available in three sizes (Twin, Full/Queen, and King) and seven colors (Eggplant, Slate, Olive, Garnet, Dusty Blue, Seashell, and Mushroom).
There are five temp settings to choose from, and the blanket auto-adjusts throughout the night, keeping the level of warmth consistent.
The King measures 100 x 89 and the Full/Queen measures 84 x 90 inches. Both the Full/Queen and the King come feature dual heating controls so each bed dweller can choose the heat setting that's best for them (no more arguments over ideal bed temperatures!).
The Twin measures 62 x 83 and while it's just as soft, cozy and plush as the other sizes, it lacks the dual temperature control option.
Thanks to the color variations, the luxurious fabric, the channel pattern and hemmed edges that give the blanket a sophisticated look, this is one heated blanket you won't mind featuring prominently on your bed!
This product is machine washable and dryer safe, though the best drying results are achieved by air-drying. For your peace of mind, the manufacturer offers a Limited Warranty.
If you're in the market for something to keep you toasty on the go, then this USB heated shawl and lap blanket is the perfect heated blanket for you. As you might've surmised already, this little puppy plugs into any desktop or laptop, be it PC or Mac, using a generous 48-inch cord.
It's made from soft, plush velour around an internal heating pad, and measures 31 x 17 inches, while the pad, in turn, measures 13 x 10 inches. It's ideal for workplaces that don't allow desk heaters at the workstation, or just as a way to reduce energy bills by knocking the thermostat down a couple degrees when you're sitting at your computer or reading a book.
You can either drape it around your legs, and there's even a button included to fasten it around your shoulders. Mmm, toasty neck and shoulders…
There are two temperature settings – just use one USB plug for low, and two for high, and you'll feel just like a cat is sitting in your lap, minus the purring.
(Visited 16 times, 1 visits today)