Regardless of your sleeping habits and positions, a good pillow will equal a good night's sleep. Sleep is extremely important, and disruption of sleep can cause serious harm to your health. And we're not talking about grumpiness and feeling tired – we're talking about serious physical and psychological damages. Impaired sleep may cause anxiety, restlessness, depression, scoliosis, backaches and headaches, breathing problems, and much more.
That's why it is so essential to choose a good pillow to sleep on.
So what qualifies as a good pillow? The perfect pillow for you depends on your unique needs and sleeping habits but one of the best choices out there, especially for side sleepers, is a contour pillow.
Why? Let us count the ways…
Awesome Benefits of Contour Pillows
Perfect support for your neck and head
Contour pillows are designed with contours that match the natural shape of your head and neckline. Thanks to this puzzle piece-like complementariness, they literally cradle your head and keep you in a comfortable, healthy sleeping position so that you wake up fresh and merry in the morning.
The contour provided by these pillows is especially brilliant for side sleepers, helping to keep your neck and spine in a neutral position as you get your beauty rest!
Reduces snoring and alleviates sleep apnea
The ergonomic shape also benefits people who suffer from chronic apnea and snoring. Having your body in a proper position will help with obstructed airways, so you can breathe better while sleeping.
Most contour pillows are made out of memory foam or natural latex, both of which provide the perfect level of firmness for most people. When a pillow is too hard, it will cause your neck and shoulder muscles to strain, and if the pillow is too soft, is might cause you to simply sink into the pillow. Either way, you'll have a lot of problems in the morning because you slept uncomfortably.
Cool options for hot sleepers
Worried about how hot you'll get during the night? Fortunately for the hot sleepers out there, contour pillows often use cooling gel to counteract the heating effects of memory foam. You'll definitely be able to find a wonderfully supportive, perfectly firm and cooling contour pillow (see our reviews below).
Ok, now you got the facts down, let's look at some of the best contour pillows on the market!
Best Contour Pillow Reviews: Our Top 5 Picks
Curious which is the best contour pillow for you? Read through our reviews and details to find your perfect curvy option!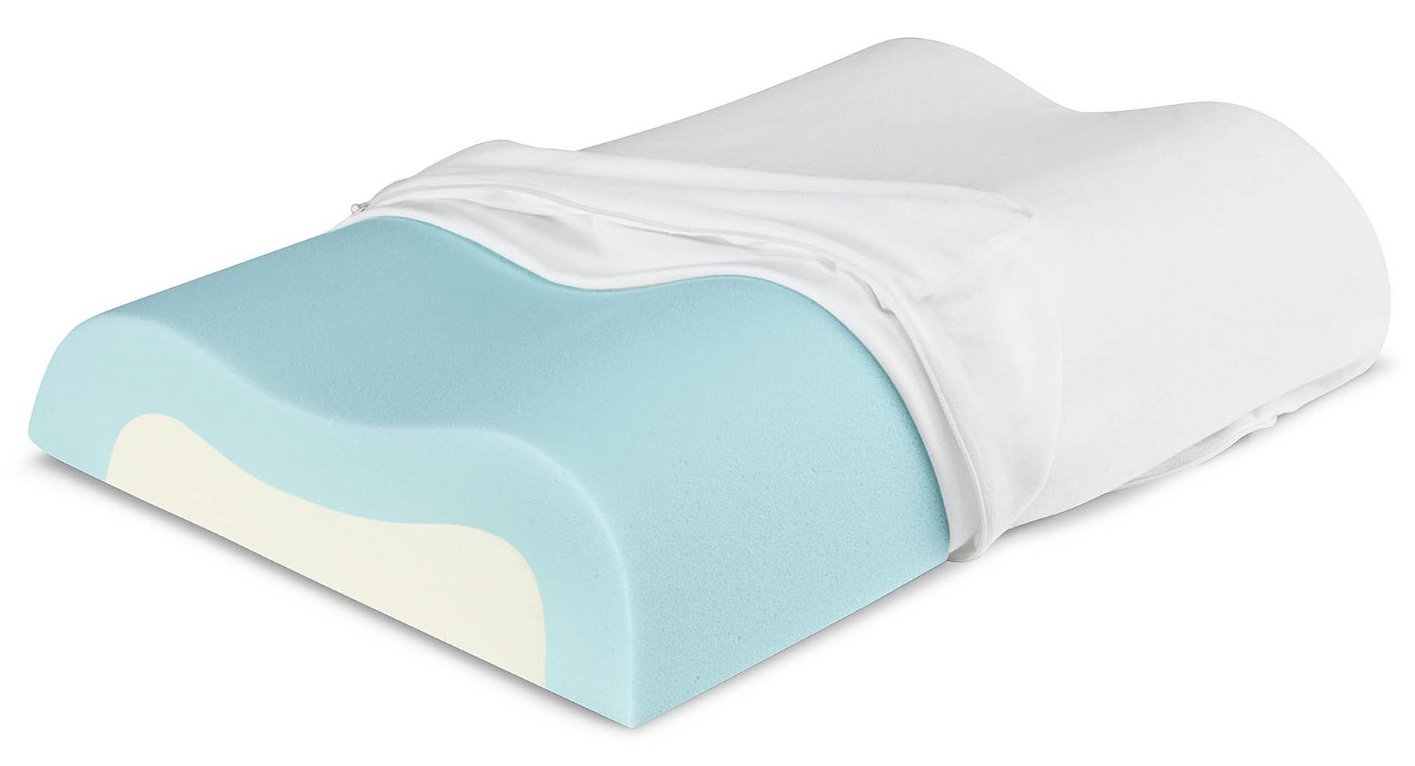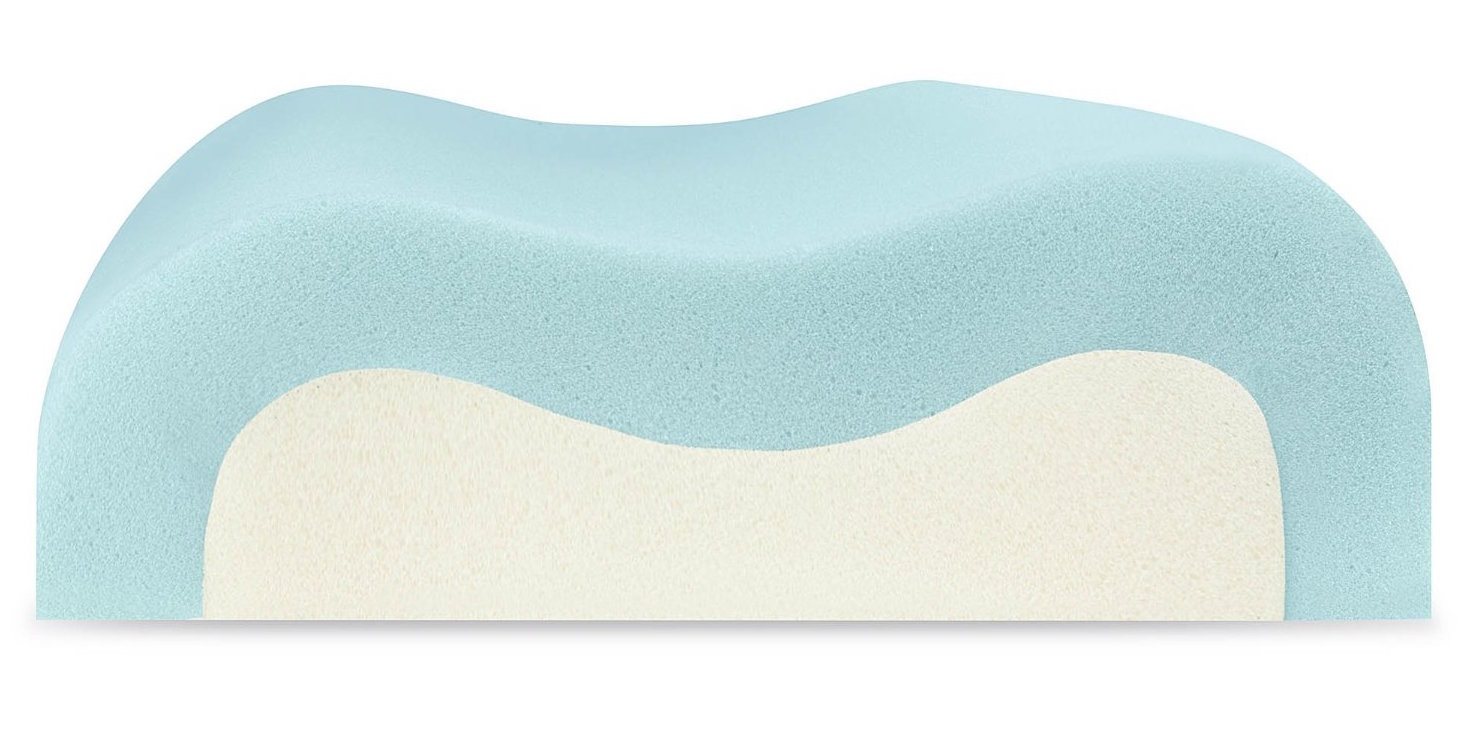 A great pillow made for everyone, be you a side, back or stomach sleeper. This is a top notch product made of the best memory foam and made in the USA. Sleeping on this pillow is an absolute bliss…but if this is your first time sleeping on a contoured memory foam pillow, it will take a few days to get used to it.
This memory foam pillow is fairly firm so especially if you've been sleeping on a soft, regular pillow, it can take two or three days for your body to adjust to getting proper support. The pillow has two ends – a smaller one and a bigger one. Try them both out to see which height suits you the best. ​
​
Whichever side you choose, the contours of the pillow will help keep your neck and spine in a neutral position, thus reducing stiffness and pain. The "cool contour" layer also does a surprisingly marvelous job of dissipating heat and providing a cool sleeping environment. It's also more breathable than normal memory foam and promotes better circulation so you won't toss and turn during your sleep as much. And yes, it is hypoallergenic.
To ensure the best quality of their products Sleep Innovations offer a 5-year warranty on this product. Read all user reviews!
​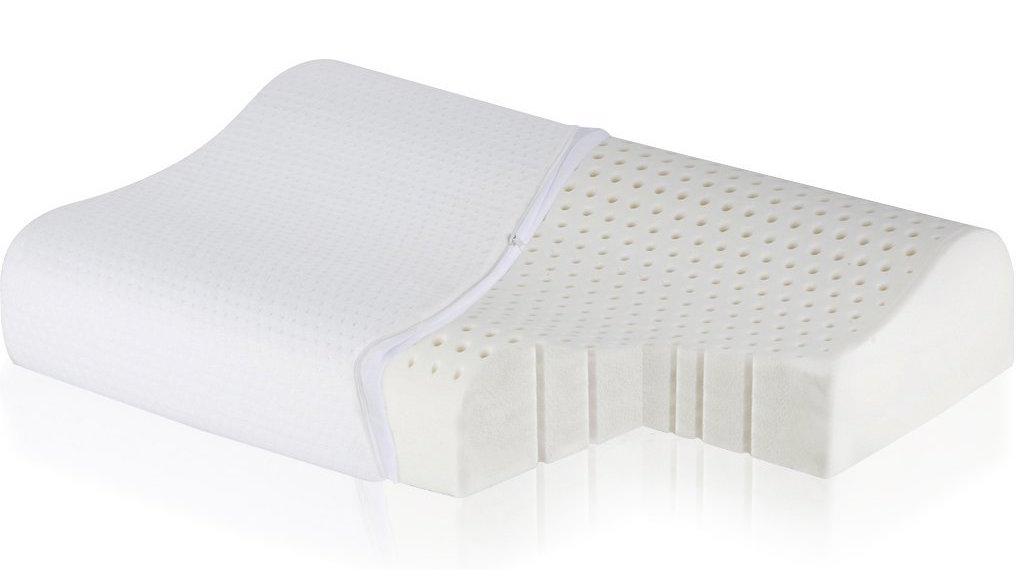 If you think that only memory foam pillows are good pillows, you're wrong. This pillow is made of natural latex, derived from rubber trees from Thailand, processed by the Talalay process that makes the pillow extra durable and malleable. It also makes it naturally more ventilated and hypoallergenic, giving the pillow great breathability and making it resistant to dust mites and dust.
The gently curved design of the pillow makes it greatly ergonomic and it's extremely difficult to deform, so it will stay in shape regardless of how much sleeping you do on it. But our favorite thing about this pillow is that it is a medium firmness with a good level of plushiness to it – best described as "squishy" that's perfect for providing support as well as comfort.
The ventilating aspect of the fabric is also great for hot sleepers – you won't overheat with this one! Finally, it is important to state the pillow comes with a one year warranty, and great customer support. Read all user reviews!
​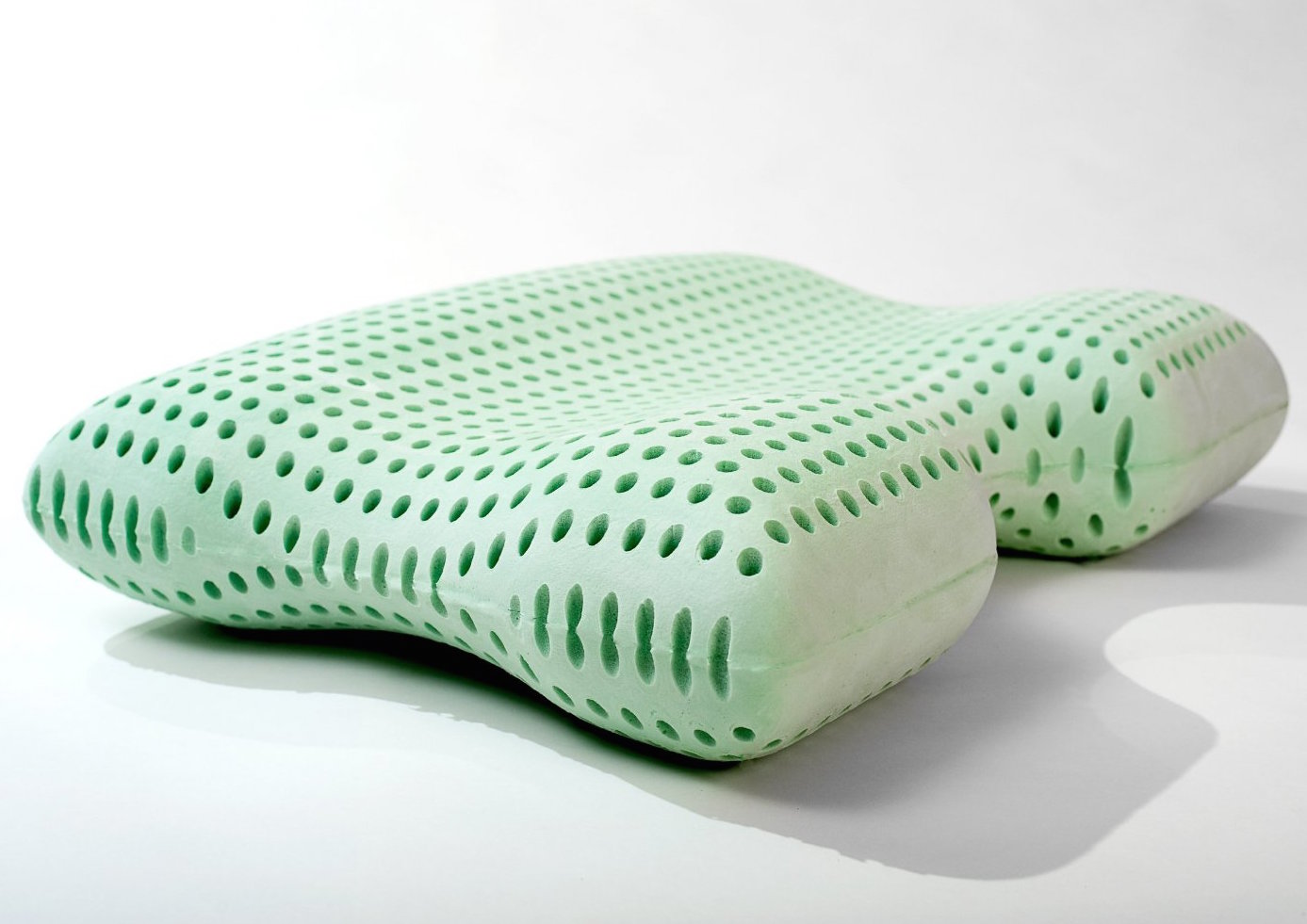 This is one of the most unique contour pillows you can get your hands head on. For starters, this pillow is made with 100% polyester Nano-Tex Coolest Comfort that wicks moisture proficiently so you can get the supportive, cradling benefits of memory foam without the sweat.
And just like with all contoured memory foam, the pillow still retains its initial shape no matter what you throw at it, and the material is hypoallergenic, so you won't suffer allergic attacks.
But in addition to those perks, this contour pillow doesn't have that dreaded memory foam scent (you know what we're talking about if you've ever slept on memory foam). Instead, it's infused with green tea and has a lovely minty scent that's actually pleasant to sleep on.
Our favorite thing about this pillow? We love that it's contoured all around – as you can see, it doesn't just have a groove down the middle to cradle your neck, it's also got a neck cutout that makes a huge difference in comfort and support.
One thing you should know is that this contour pillow is a little more on the softer side than the above pillows – it provides good support but it has a nice, spongey feeling to it that's perfect for those of you who are looking for softer support. Read all user reviews!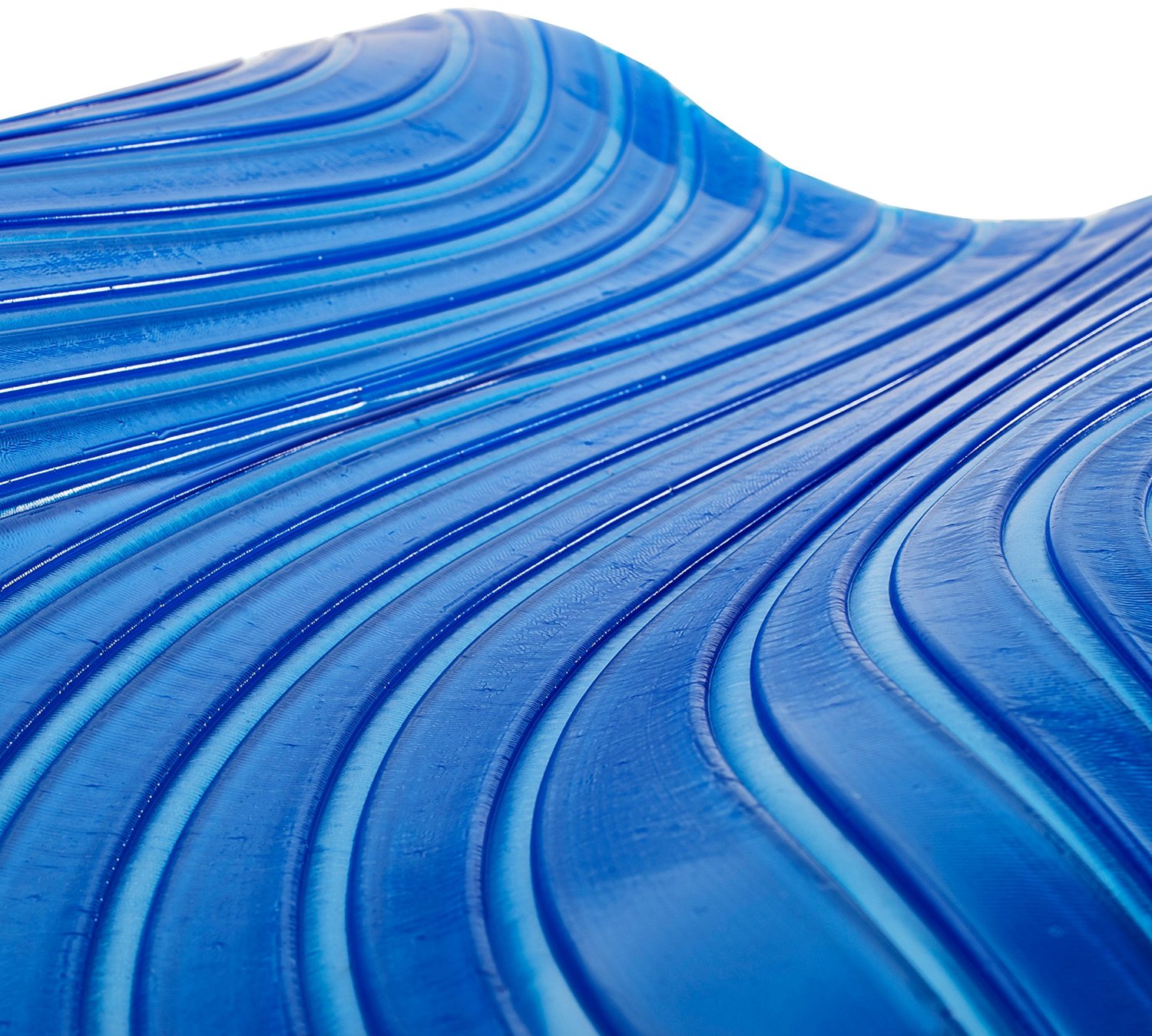 Just as the name suggests, this pillow is the coolest of them all. Metaphorically and maybe even literally. The two pounds of cooling gel ensures maximum comfort when sleeping even during the hottest summer days. Of course, the pillow is made with moldable memory foam, so it will perfectly support your head, neck, and shoulders, reducing and eliminating back pain, allowing for a great night's sleep.
The memory foam in the pillow is treated to repel any allergens, making it perfect for sensitive people. The cover is very breathable so that it betters your circulation, removing the tossing and turning during the night, and ensuring the freshness of the pillow.
ViscoSoft offers you a wide variety of pillows so you may choose the best possible pillow for yourself, and so you can customize the pillow toward your dimensions. Finally, the company offers a full refund within 30 days if you're not satisfied with the product, and a 3-year warranty. Read all user reviews!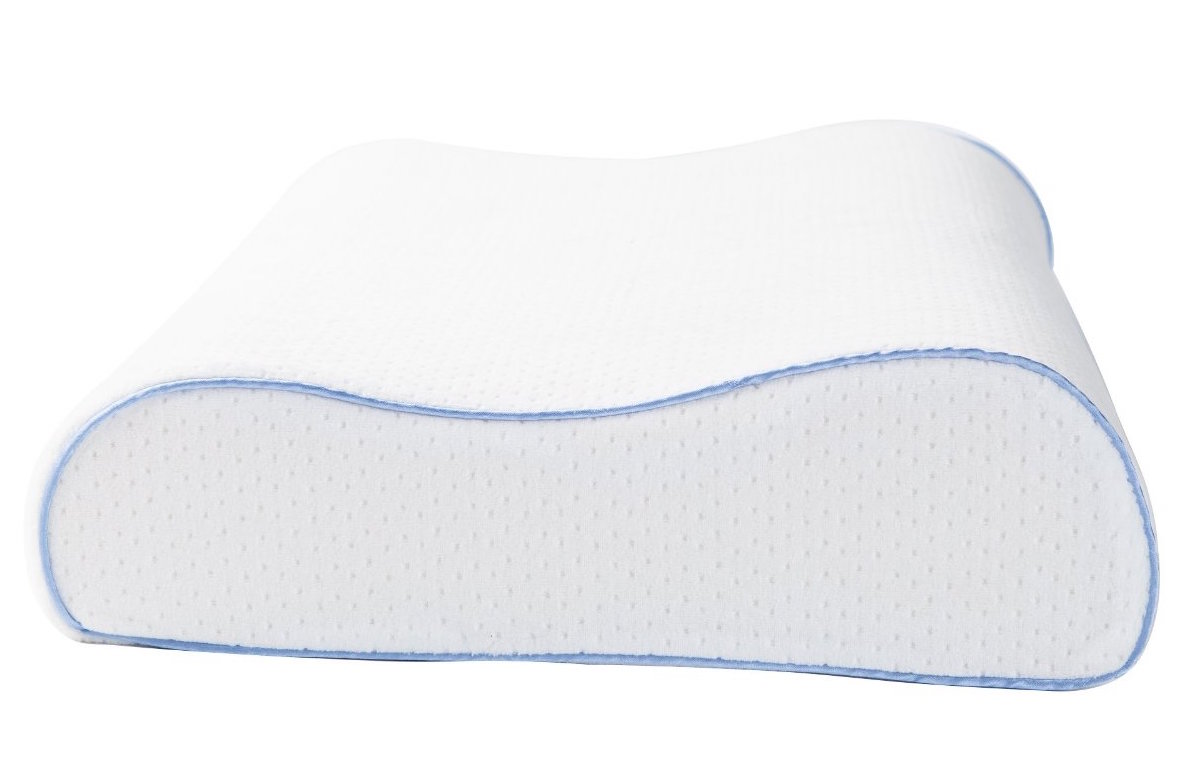 This is yet another great memory foam pillow for side sleepers. Which is no wonder, considering most of the population sleeps on their sides. This makes the demand for contour pillows skyrocket, as many side sleepers experience back and neck problems. That is why the memory foam in this pillow is of the highest quality – it has a perfectly balanced firmness to ensure the best possible support for your spine.
Naturally, like all top notch pillows, the product is breathable via ventilation holes that also reduce the temperature of the pillow and help dissipate heat. The cover is also removable and washable to ensure maximum freshness. But the final, and best part of this pillow is that you are offered a lifetime replacement guarantee.
Yes, you read that right: for life. Read all user reviews!​
Love to sleep on your side but never get enough support? You need to try this one. The therapeutic heart shape filled with supportive memory foam provides amazing support for your neck and spine. If you're prone to sleeping on your side with your arm tucked under your head for support, you know how difficult it can be to find that perfect level of height and comfort but rest assured that this one fits the bill.
And it's not just for side sleepers – this pillow is great for both side and back sleepers, as its ergonomic shape conforms perfectly for both positions.
The foam is completely hypoallergenic, the fabric is soft and gentle on your skin, and it comes with a cover that has an invisible zipper so you can remove it and wash it. The fabric is very breathable and does not retain heat, making it good for hot sleepers. And again, the best part about the pillow is the guarantee – you may return the pillow anytime and get a full refund. Read user reviews!
(Visited 47 times, 1 visits today)