So you've heard someone raving about the benefits of buckwheat pillows and you find yourself perusing the Internet for the best buckwheat pillow you can find. But in the back of your mind, you can't help wondering…"What the heck is buckwheat and why would I want to sleep on it?"
Good question, especially considering buckwheat sounds like something you'd eat rather than use as a pillow. So what's so special about this sort of pillow? Let us count the ways…
6 Benefits of Buckwheat Pillows
Your pillow is an essential part of your good night's sleep and an even more important part of your overall health, especially when you consider that a bad pillow can cause a number of problems – back and neck pain, disturbed and uncomfortable sleep, and, in worst cases, the onset of scoliosis. You can even develop allergies from the material the pillow is made of!
This is why we warmly recommend that you get yourself a buckwheat pillow. A buckwheat pillow is filled with buckwheat seed hulls, and these pillows have been proven to be very beneficial to your health in a bunch of ways, like…
Perfect support in any position
The number one reason people seek out buckwheat pillows is for the unparalleled support they provide. You see, buckwheat hulls may be hard but they're extremely ergonomic. Unlike regular pillows, buckwheat pillows aren't squishy and they don't compress. Instead, they gently mold to fit your head and neck while retaining the natural shape of your neck curve.
The result is firm yet comfortable support for your entire neck and head area that provide the proper alignment you need to get rid of lower back pain and neck problems caused by sleeping.
It may take some getting used to at first, but it's totally worth it. A buckwheat pillow will support your head and hold it in a correct position, so you'll never again wake up with a sore neck!
Air flow and breathability
Buckwheat hulls are triangular in shape, and this allows for air to flow freely through them. This, in turn, makes the pillow extra breathable. The buckwheat also does not retain any heat, so you will never have to experience head and neck sweats when you wake up.
Not to mention that gross feeling of sleeping on a sweat-stained pillow…none of that occurs with buckwheat.​
Completely non toxic and natural
The relationship you have with your pillow is as intimate as it gets – I mean, you're in extremely close contact with the thing for several hours of every day! So it makes sense to avoid chemical laden pillows.
Well, buckwheat pillows are completely chemical free and 100% natural. That makes them perfect for those of you who're looking for safe, non toxic bedding for yourself and your family as well as for those who simply cannot stand the chemical or plastic fumes from many traditional pillows.
We're all unique snowflakes when it comes to sleeping preferences. Some like to have their head elevated high up and some seek the flattest pillow they can find.
With buckwheat pillows, you'll be able to create the perfect pillow height without having to invest in a variety of different sized pillows. You simply add buckwheat hulls to make it higher and firmer or take out buckwheat hulls to make it lower and looser. Easy peasy.
Has a super long lifespan
Buckwheat is a renewable resource and thanks to this, a buckwheat pillow has an amazing life span. While most traditional pillows need be replaced after three years or so in the best case scenario, a buckwheat pillow will last you on average 10 years.
The fabric on most buckwheat pillows is washable and when the buckwheat hulls start getting old (or falling out), all you need to do is replace and refill them. ​
This makes buckwheat pillows an excellent investment. They may cost more than regular pillows, but you are paying the extra money for extra quality and in the long run, the pillow may turn to be cheaper overall, because you won't need to replace it for a very long time.
Finally (and for some, most importantly), buckwheat pillows are hypoallergenic. The pillow's casing is usually made of cotton and the buckwheat is known to repel dust mites. The pillow is extremely beneficial to people who suffer from allergies on a constant basis.
Now that you know the benefits of a buckwheat pillow, let's take a look at the best ones on the market!
What's the Best Buckwheat Pillow? Our Top 5 Picks
Ever since it became common knowledge that buckwheat pillows could help prevent neck and back pain, the market has become inundated with buckwheat pillows of every stripe and variety.
And whereas an abundance of choice is a welcome thing, who has the time to go through endless choice of pillows? Especially when you could rather be napping.
So we've done the work for you and compiled a list of the best buckwheat pillows you can get your hands head on – you can't go wrong with any of these options!​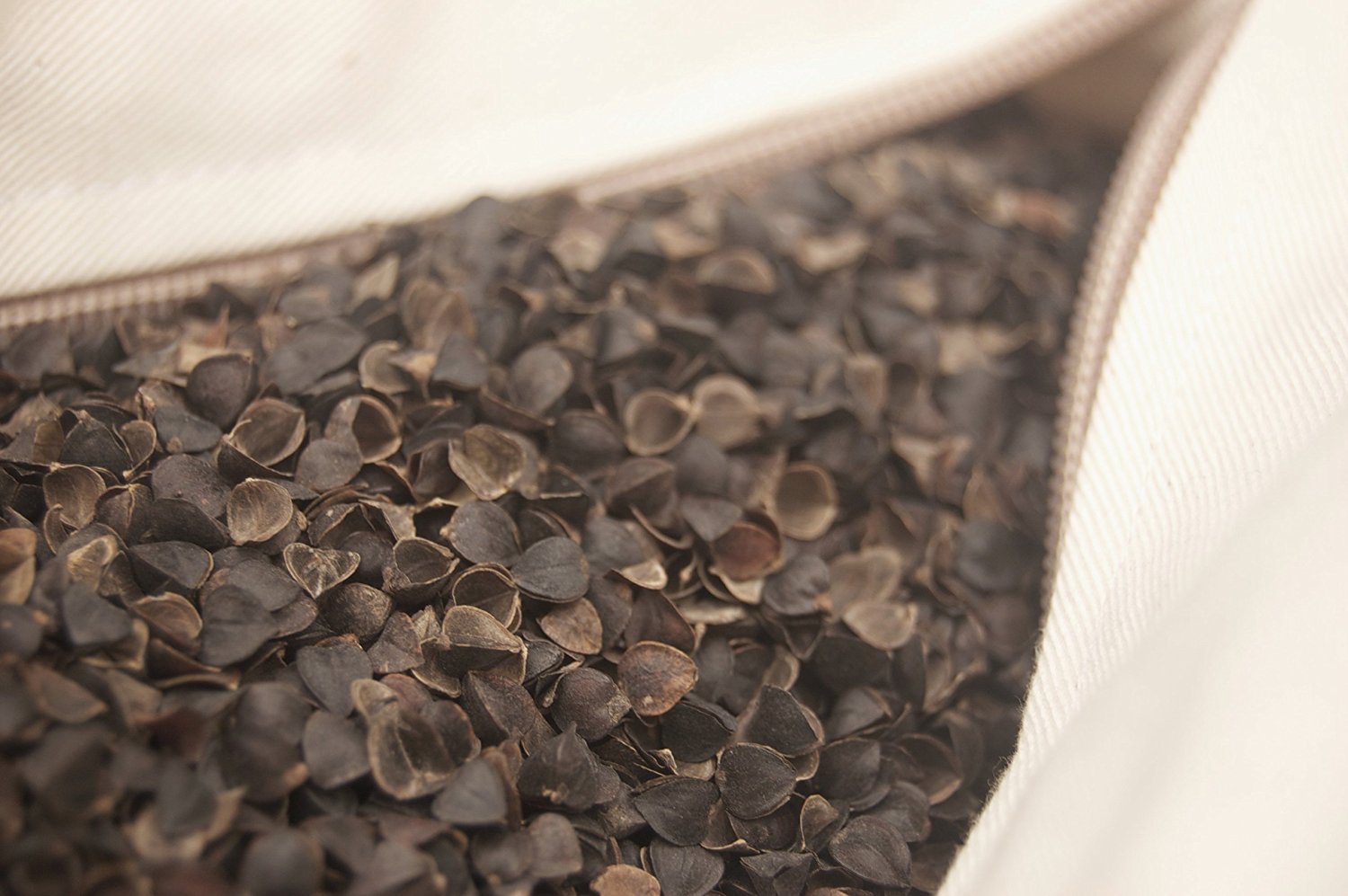 We're starting the list with this wonderful product from Hulltex LLC. The pillow is made of the highest quality buckwheat hulls, is hypoallergenic and very breathable. The pillow casing is made of organic cotton twill, a material that's light and breathable while still being very tough and sturdy. The sturdiness of the material also fortifies the shape-retaining of the pillow, offering great support for your head and neck.
As we have said, the buckwheat allows for unobstructed air flow. This makes this pillow very cooling and perfect for those who sleep hot or get night sweats. The pillow will excellently adjust to the temperature of your body and the room temperature, preventing night sweats and excessive heat.
The pillow has no chemical-based foams or additions and features a good-quality zipper for easy adjustability. The pillow weighs 8 pounds.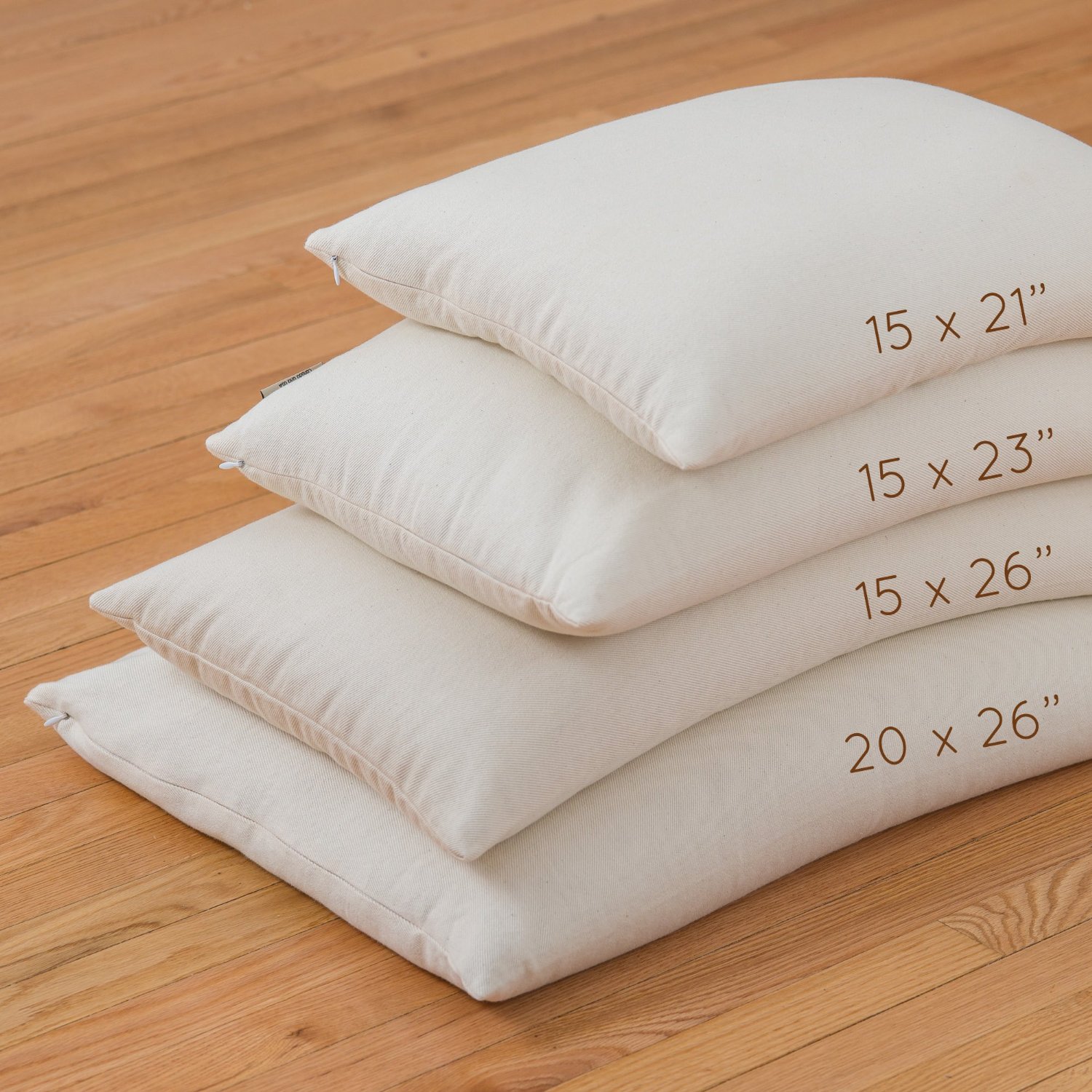 Comfy Sleep is a well-known company that sells only the best of the best products. The name of the company alone will assure you that this pillow is nothing short of excellent. The pillow is, of course, hypoallergenic and breathable and filled with the highest-quality, homegrown buckwheat hulls. The pillow casing is made of sturdy cotton twill, so you don't feel the hulls through the fabric and the pillow has enhanced shape-retaining capabilities.
To ensure the standard of the pillow they're selling, and to ensure it is 100% beneficial to the user, the buckwheat is cleaned without any chemicals and fumigants. The pillow is actually handmade, which only adds to the quality of the product. The pillow also features an invisible zipper and an extra pound of hulls, so that you may customize the pillow to your liking. The pillow features a Gutermann thread for extra strength of material. The pillow weighs 5 pounds, but the weight is adjustable.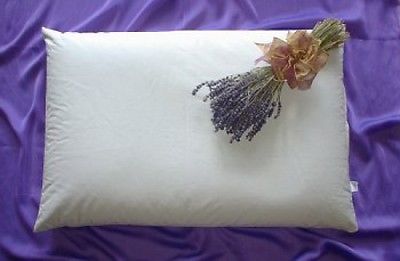 If you're craving an authentic Japanese buckwheat experience, this pillow is just right for you. And if you're not, this pillow is still right for you. The hypoallergenic and ergonomic pillow is perfect for everyone, no matter if you have problems with allergies or back problems, or aren't experiencing any – the pillow will do a great job alleviating the problems as well as preventing them.
The pillow is made from 100% cotton and is very sturdy and durable. This, in turn, helps the pillow achieve the ergonomic shape that will help support your head and neck. The buckwheat is very breathable, so you won't experience any issues with elevated temperatures during the night. And to fortify a good night sleep, the pillow comes with a pouch of dried lavender to freshen it when you're not sleeping on it and to let you slip into dreamland more easily.
The pillow also features a zipper, so you can replace or pull out some hulls, allowing you to customize your pillow. Finally, this pillow is much heavier than the other, as it weighs 10 pounds, but, like we said you can easily adjust the height and volume.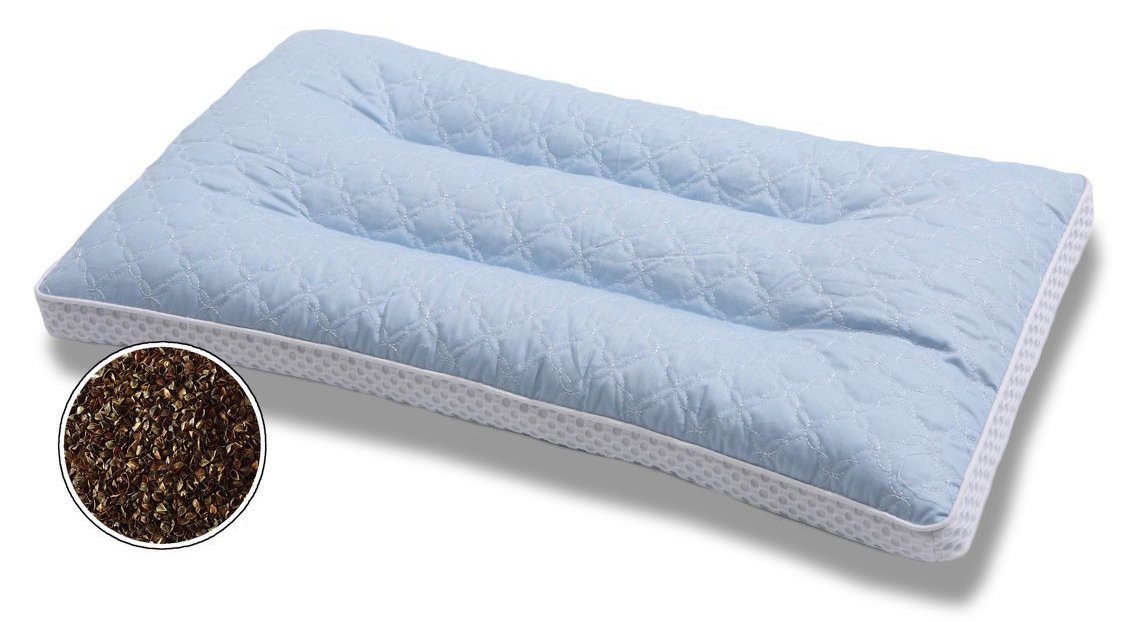 This pillow was made in China, but it is nothing short of perfection. The buckwheat in this pillow is homegrown and 100% organic to ensure its effectiveness at repelling allergens, and to ensure that it is supremely ergonomic. The pillow case is made of 100% cotton, and is sturdy, durable, but light and breathable.
The pillow case is also made with double seams to increase its durability and to keep the hulls in place. It also comes with a zipper, so you can adjust the pillow by adding or removing the buckwheat. The cotton case is completely machine-washable, so you can keep your pillow clean. Just empty the hulls, wash the case, dry it, and then put the hulls back again. Easy-peasy.
This is the only cylindrical pillow on this list, but that doesn't remove any of its quality. Actually, it adds to the versatility and portability of the pillow. Its shape and design make this pillow great for traveling, car, plane, you name it – wherever you go, and whichever transport you're using, and wherever you may end up, this pillow will be there for you.
The pillow is made from 100% organic buckwheat and the pillow case is outfitted with a zipper so that you may remove it and clean it, or remove or add the buckwheat hulls. The case is also made from Certified Organic Cotton and is breathable and hypoallergenic. All in all, a great pillow for a great night's sleep wherever you may go.
​
(Visited 47 times, 1 visits today)